The violinist Billy Bang, who created himself as a jazz musician out of the trauma of the Vietnam war, died yesterday at 63. Inhabited by his combat experiences, his emotions wounded, Bang found relief and rehabilitation by returning to the violin he had studied as a child. He pursued an intensity of expression that helped him evade his demons. He became one of the most centered players in the free movement, inspired by John Coltrane and by the violin playing of Ornette Coleman and Leroy Jenkins. The great swing violinist Stuff Smith also influenced him. For complete obituaries of Bang, go here and here. Below is an encore of the Rifftides review of Bang's last album.
Billy Bang, Prayer For Peace (TUM). In an album mostly of his own compositions, the violinist opens with Stuff Smith's "Only Time Will Tell." Bang and trumpeter James Zollar might be summoning the spirits of the seminal jazz violinist Smith (1909-1967) and his Onyx Club sidekick of the 1930s, Jonah Jones. The rest of the CD is redolent of the music Bang has made with Sun Ra, Don Cherry, the bassist Sirone and others in the avant garde, and of his love for John Coltrane. That is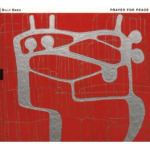 not to say that it is experimental or inaccessible. Even at its most daring, Bang's music has always had an engaging old-timey quality that he transmits to those who play with him, including Zollar, bassist Todd Nicholson, pianist Andrew Bemkey and drummer Newman Taylor-Baker, the band of young musicians he has employed for some years. The title tune, just short of 20 minutes, runs in a tranquil modal course that reflects the quest for peace that Bang has promoted with music since his experience in the Viet Nam war. Bang's danceable version of "Chan Chan," the Afro-Cuban anthem made famous by the Buena Vista Social Club, is among the pleasures here. The Finnish record company TUM lavished commendable care on the sonic production and packaging of this CD.
Also see artsjournal.com colleague Howard Mandel's remembrance of Bang.