The fine jazz photographer Ron Hudson died at his Seattle home on Tuesday. He was
71. For more than 30 years, Hudson captured memorable images of Ella Fitzgerald, Miles Davis, Woody Herman, Milt Jackson, Bud Shank and dozens more of the leading musicians of his time. He worked exclusively in black and white and won admiration for the clarity of his prints. As noted in this Rifftides review of a book of his collected photographs, Hudson had the gift of anticipating a crucial stage in the act of improvisation and releasing his shutter at precisely the right millisecond. Most of his pictures were intimate action portraits, but he sometimes caught large groups in dramatic moments, as in this panoramic shot of a convocation of bassists a few years ago in a tribute to Ray Brown at the Centrum Port Townsend Jazz Festival.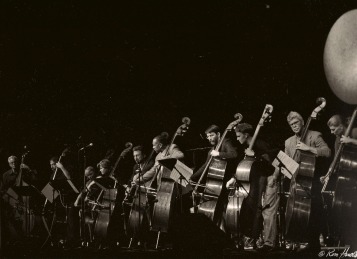 A 2006 Katy Bourne profile of the photographer on All About Jazz includes several of Hudson's photographs.