Russell Malone, Triple Play (MaxJazz). The warmth, conversational phrasing and lack of hurry in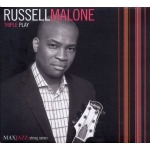 Malone's guitar work find space and congeniality in the spare background of David Wong's bass and Montez Coleman's drums. In the absence of another chording instrument to collaborate or contend with, Malone is free to make harmonic choices without concern for clash or collision. As the guitarist observes in his liner comments, Wong abets him with "great notes"…"good time" and taste. Coleman's snare drum accents and cymbal splashes color the proceedings without calling undue attention to themselves or disrupting the flow.
Malone's repertoire here is an assortment of his compositions, jazz tunes by others and standards. With its boogaloo inflections, his spunky "Sweet Georgia Peach" seems to allude to the pop funk of the 1970s. Like many of Malone's originals, "Pecan Pie" and "Pocketwatch" have overtones of nostalgia and reflection. He radiates joy in "Butch and Butch," a blues from Oliver Nelson's 1961 The Blues and the Abstract Truth. He revives "Tailfeathers" from Patrão, Ron Carter' 1980 album featuring Chet Baker and Kenny Barron. He lets Cole Porter's melody tell its own story as he caresses the 1939 ballad "Do I Love You?" then ends with a series of astringent ascending figures that falls away into the reassurance of a major chord. It is a typical Malone study in contrast.
More Recent Listening reviews to come.