As 2010 wound down, it appeared that the venerable Detroit jazz club Baker's Keyboard Lounge might be sold to someone who would make it into a dollar store. That sent a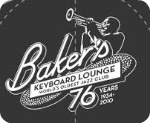 shock through the city's jazz community, which has heard major musicians at Baker's for more than three-quarters of a century. As Mark Stryker reported last week in The Detroit Free Press:
Baker's has been integral to Detroit's cultural identity as a jazz mecca for so long, it's hard for musicians, aficionados and even casual fans to conceive of the city without it. Detroit-born saxophone star James Carter*, who grew up inspired by the heroes he heard at Baker's, calls it "holy ground."
"You join this caravan of cats who have been there and made musical and spiritual contributions beyond measure," he said.
The caravan has included Louis Armstrong, Miles Davis, Dave Brubeck, Dizzy Gillespie and a parade of Detroiters who came to musical maturity in the city, among them Tommy Flanagan, Barry Harris, Pepper Adams, Yusef Lateef and Hank, Thad and Elvin Jones. Baker's got a stay of execution yesterday in a bankruptcy auction. The new owners say that they intend

to keep it a jazz club and spiff it up. One of them said, "Baker's is a gem of Detroit and we're going to treat her as a wife. We're going to clean her up and make her feel good." To read Stryker's report on the sale and see a gallery of photos from Baker's, click here.
*James Carter was not only inspired at Baker's but is one of dozens of musicians who have recorded at the Lounge.