Many listeners know that Arturo O'Farrill is a talented New York pianist who leads Jazz at Lincoln Center's Afro-Latin Jazz Orchestra. He has been a considerable force in Latin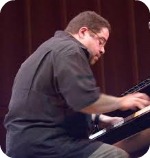 music in the US for three decades. Fewer may be aware that he is the son of Chico O'Farrill, a Cuban of Irish origin who was one of the most distinctive and versatile composers and arrangers in American jazz. In this week's Village Voice, Larry Blumenfeld tells the father's and son's stories in the context of Arturo's emotional trip to Havana with his mother and sons. He made the trip with full knowledge that anti-Castro Cubans in the US, including his friend Paquito D'Rivera, feel that any recognition of or cooperation with Cuba will be used by the Castro government as a propaganda weapon. From Blumenfeld's piece:
Arturo squints into the sun and explains that, late in his life, after his father's career had revived, Chico was ready to go back and play his music. He wanted to return. "But then his health took a really bad turn," Arturo says. "It became impossible. So I'm completing that trip for him." But this isn't just a personal matter, he explains. "I'm not interested in making light of the fact that Cuban politics is rife with corruption and political imprisonment. I'm also not delicate about communicating that America is a nation built on tremendous bloodshed and continuous imperialism. I don't think those are things that should be run from or ignored. They're just historical facts. Anybody who's half-awake in the world will understand the brutality of both sides. Music courses through and above all that. We need to connect, not disconnect."
Blumenfeld's lengthy article about O'Farrill's visit to his father's homeland has the flavor of a well-reported documentary. To read it, go here.