George Shearing died early today at the age of 91. With his quintet, Shearing used a locked-hands technique at the piano, blending with vibes and guitar to develop a style that resonated with listeners and became one of the most recognizable sounds in an era when jazz was still at the core of popular music. He was already a success because of his hit version of "September in the Rain" when the record of his 1952 composition "Lullaby of Birdland" solidified his popularity. The song also provided Shearing a reliable annuity; dozens of instrumentalists and singers incorporated it into their repertoires and recorded it.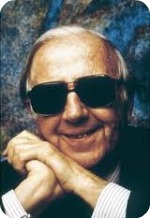 Shearing, born blind, had become widely known in his native England when he moved to the United States in 1947. He was an early admirer of Bud Powell and quickly adapted to the new strain of music that came to be known as bebop. He was a fleet and inventive improviser whose brilliance was sometimes taken for granted because of his band's popular success.
Fellow musicians recognized his gift. Shearing's contemporary Dave Brubeck, told the Associated Press today, "I consider him one of the greatest musical minds I've ever been around. In the '50s, George paved the way for me and the (Modern Jazz Quartet), and even today jazz players, especially pianists, are indebted to him."
To read all of the AP's Shearing obituary, click here.
When vibraharpist Charlie Shoemake joined Shearing in 1967, the other members were guitarist Joe Pass, bassist Bob Whitlock and drummer Colin Bailey. Shoemake stayed for seven years.
"He was tough if somebody wasn't up to par," Shoemake told me today, "but if you met his standards, he couldn't do enough for you. When you go to work six, seven nights a week with a great band like that, you're going to really improve. I had great admiration for him. Harmonically, I don't think that he had any peers; he was as brilliant as anybody I ever met. His touch and his voicings and his chord substitutions on songs were from the heavens. Bill Evans, of course, was very influenced by way he used block chords. Bill very openly admitted that he'd learned a lot of that from Shearing. With George, I went from being an anonymous studio musician to someone sort of well known as a jazz vibes player. All the guys who played for him loved him."
Here is Shearing in the early 1950s with his composition "Conception," which became a jazz standard. The quintet has Don Elliott, vibes; Chuck Wayne, guitar; Denzil Best, drums; and John Levy, bass.
George Shearing, RIP.