From San Francisco comes word that trumpeter Allen Smith died last week at the age of 85. Smith's musical career got underway at the same time as those of his San Francisco State College classmates Paul Desmond, Cal Tjader, Jerome Richardson, Vernon Alley, Roberta Mandel and Dick Vartaniah. He worked with them in various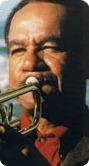 bands and with other Bay Area jazz mainstays, including guitarist Eddie Duran. Although Smith's work as a musician never stopped, he fit it around his schedule as an educator who earned a masters degree and became a school principal. Smith played trumpet with Benny Goodman, Duke Ellington and Gil Evans and recorded with Ellington, Evans, Tjader, Flip Phillips and Hubert Laws among others. He was in the trumpet section on Evans' classic Great Jazz Standards album, which is included in this collection of Evans' Pacific Jazz recordings. He made his first album as a leader in 1998, when he was 72. From The San Francisco Chronicle:
Mr. Smith was a mainstay at the fabled Fillmore after-hours club, Jimbo's Bop City. Along with venerable jazz bassist Vernon Alley, drummer Earl Watkins and others, Mr. Smith helped end segregation in San Francisco nightclubs in the late '40s. He was one of the primary players at the short-lived Blanco's Cotton Club on O'Farrell Street, the city's first desegregated club in the elegant 1907 theater now called the Great American Music Hall.
"Opening a club with all-black entertaining and help, where anybody could come? That was quite radical at the time," Mr. Smith recalled in 1998.
To read the entire obituary, go here.