The young bassist, composer and vocalist Esperanza Spalding last night shattered decades of pop and rock dominance of the Grammys to become the first jazz musician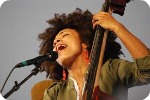 ever to be named best new artist. She edged out the teen idol Justin Bieber and three other pop performers. Spalding's Chamber Music Society CD broke through several categories in 2010 and became a best seller for her label, Telarc. For a Rifftides review of the album, go here. Spalding made an impression in the jazz community for music with her own groups and with Joe Lovano's band Us Five.
Less than three months after his death, James Moody's 4B won in the best jazz instrumental category. Other jazz winners are Dee Dee Bridgewater for Eleanora Fagan, her tribute to Billie Holiday; Herbie Hancock for best improvised jazz solo; the Mingus Big Band and—in the overall Grammy category of best instrumental composition—Billy Childs for "The Path Among the Trees" from his album Autumn In Moving Pictures: Chamber Music Vol. 2.
For a complete list of the winners in all 109 Grammy categories, go here.