The New Orleans Jazz and Heritage Festival yesterday announced the lineup for the 2011 edition. The festival will run the weekends of April 29-May 1 and May 5-8. In New Orleans, they still refer to the event as JazzFest. Here is a partial list of the hundreds of major attractions.
Arcade Fire, Bon Jovi, Jimmy Buffett, Kid Rock, John Mellencamp, Wilco, Willie Nelson, The Strokes, Robert Plant, Ms. Lauryn Hill, Tom Jones, Jeff Beck, Sonny Rollins, John Legend & The Roots, The Avett Brothers, Cyndi Lauper, Wyclef Jean, The Decemberists, Bobby Blue Bland, Mighty Clouds of Joy, Edie Brickell, Kebâ•˙Moâ•˙, Rance Allen, Ahmad Jamal, RAM, Punch Brothers, Ron Carter Trio, Fisk Jubilee Singers, Ivan Lins, Charlie Musselwhite.
A few of the Louisiana performers:
Trombone Shorty & Orleans Avenue, The Neville Brothers, Dr. John, Allen Toussaint, Irma Thomas, Mystikal, Pete Fountain, Kermit Ruffins & the Barbecue Swingers, Better Than Ezra, Rebirth Brass Band, Galactic, Tab Benoit, The Radiators, Cowboy Mouth, Ivan NevilleË™s Dumpstaphunk, Marcia Ball, The Dirty Dozen Brass Band, Ellis Marsalis, Walter "Wolfman" Washington, Sonny Landreth, Henry Butler, Papa Grows Funk, Big Sam's Funky Nation, John Boutté, Terence Blanchard, Amanda Shaw, The New Orleans Bingo! Show, Preservation Hall Jazz Band, Johnny Sketch & the Dirty Notes, Nicholas Payton, Astral Project, Big Chief Monk Boudreaux & the Golden Eagles and Banu Gibson.
For a complete list of performers and information about the festival, go here.
JazzFest, as it was christened at its birth in the late 1960s, began as the purest of jazz festivals, integrated with a judicious smattering of associated events involving Louisiana food and culture. The 1968 and '69 festivals, along with certain years at Newport and Monterey, were among the music's milestone large events. They were not big money makers and they did not fit some New Orleans movers' and shakers' vision of what a festival should be in a city whose motto is "Let The Good Times Roll." These were the headliners in 1968, JazzFest's first year:
Louis Armstrong, Duke Ellington, Woody Herman, Dave Brubeck & Gerry Mulligan, Pete Fountain, Ramsey Lewis, Max Kaminsky, Lurlean Hunter, Art Hodes, Pee Wee Russell, Cannonball Adderley, Carmen McRae, Ray Bryant, Teddi King and Gary Burton.
Among dozens of New Orleans musicians were:
Sharkey Bonano and his Kings of Dixieland, Al Belletto, Danny Barker, the Papa French band, the Olympia Brass Band, Louis Cottrell, Willie Tee And The Souls, the Dukes of Dixieland, June Gardner Quartet and Armand Hug.
Most of the concerts in '68 and '69 were sit-and-listen affairs in the Municipal Auditorium, with a sprinkling of riverboat cruises and events in Jackson Square. The focus was on jazz and its central role in the history and life of the city.
In 1970, George Wein's Festival Productions company took over JazzFest from the locals who created it, renamed it the New Orleans Jazz and Heritage Festival and—with promotional skill and canny marketing—made it the world-famous party it is today. The fact that the bash is overwhelmingly pop, secondarily heritage and minimally jazz doesn't bother the promoters and doesn't bother New Orleans. It was probably inevitable in the city that care forgot, that JazzFest would become a big, fat, swirling celebration full of R&B, rock, country, gospel, Zydeco and soul. In the 2011 lists above, you may have to do a little searching to find the names of jazz artists.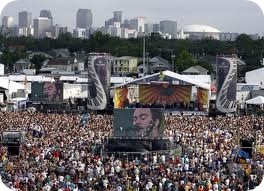 More than five years after Katrina, with the city recovering but much of it still resembling a post-war nightmare, a party called a jazz festival symbolizes New Orleans' determination to recover. That speaks of a spirit that rises from within New Orleanians and cuts through a malaise of failed leadership, politics and bureaucracy. For eight years, I was a New Orleanian. I understand that spirit. It grows out of the curious combination of laissez faire and obstinance that animates folks whose blood has a component of coffee with chicory.
Partying, food, boogying and getting down are wonderful. Few Orleanians would disagree with any of that. But this is the city that gave us Louis Armstrong, Sidney Bechet, Jelly Roll Morton, Henry "Red" Allen, Barney Bigard, Raymond Burke, Danny Barker, Paul Barbarin, James Black, Johnny Vidacovich, Al Belletto, Terence Blanchard, Donald Harrison and the Marsalises.
It is clear that popular taste no longer embraces jazz as a central element. It is equally clear that the New Orleans Jazz and Heritage Festival is here to stay as a kaleidoscope of entertainment. It would be welcome if the city also had room for a festival that honored and nurtured the music that is the living symbol of the New Orleans spirit. Somehow, jazz ended up with a bit part in what the natives still call JazzFest.