When the National Endowment for the Arts Jazz Masters Awards ceremony and associated events happened a couple of weeks ago, I was caught on the horns of a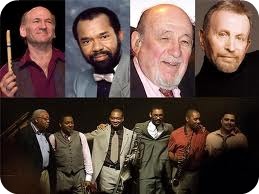 deadline dilemma and had to skip the televised proceedings. I've been catching up with the honors to David Liebman, Hubert Laws, Orrin Keepnews, Johnny Mandel and the Marsalises. Better late than never. The ceremony at Lincoln Center in New York City on January 11 ran long, although not as long as some previous years' events. It included nicely made five-minute mini-documentaries about each of the 2011 jazz masters. We'll show you two of them and lead you to the others.
The group award to Ellis Marsalis and his sons Branford, Wynton, Delfeayo and Jason stirred up criticism. The criticism is water over the dam; the award went to most of that extraordinary New Orleans family. My only substantial reservation is that Dolores Marsalis, the matriarch whose strength is the family's center, wasn't named on the plaque.
The NEA portrait of Keepnews came close to giving an understanding of what a gifted producer can do for music.
To find the video portraits of all five of the masters for this year and several earlier ones, go here. To see the entire two-hour NEA ceremony in streaming video, click here. And if that isn't enough for you, click here and see a panel discussion, complete with at least one surreal speech in the guise of a question from the audience.