At this time of year, those who write about music, books, plays, motion pictures, sporting events, chili cookoffs, hog-calling contests and—for all I know—goldfish breeding, are expected to compile lists of the year's best. I have been complicit in this questionable activity, but I've been trying to quit.
In the case of jazz recordings, the notion is absurd that anyone can name the best. You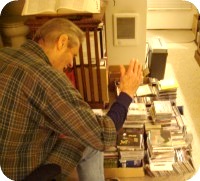 could listen for 12 months during all of your waking hours and not hear, much less evaluate, a tenth of a year's output of albums. After a few weeks you would be babbling, taken away in a straitjacket. As I have written here, possibly to the point of annoyance, it is impossible to keep up with jazz releases in an era when digital technology enables musicians to be their own record companies. The irony is that they flood a dwindling market.
Nonetheless, my resistance is no match for the irresistible force known as Francis Davis. Francis is the distinguished author and critic who compiles for The Village Voice its annual jazz critics poll. Once again, he persuaded me and 119 other critics (who knew that there are 120 jazz critics?) to submit lists. In the elegant introduction to his massive survey, Mr. Davis writes:
This poll has become my labor of love—my equivalent of social networking, and, for a couple weeks once the ballots start filling my inbox, just about my only social life. Along the way this year, in addition to a hundred or so albums I might otherwise not ever have known existed, I also got word of layoffs and cutbacks, a corneal abrasion, a nagging heel injury, the death of a mother, the birth of a daughter, and the loss of James Moody to pancreatic cancer. Thanks to this year's 120 participants for keeping me up to date.
He then goes on to name the 120, link to their previous years' entries and provide another link that takes readers to all 120 best-of lists. Even if you don't make it through all of the lists, you will find it worthwhile to read Francis's essay, which contains the list of overall winners based on an average of the critics' findings, and his own best-of list with incisive evaluations. Of course, the notion of "winners" in the arts should be anathema, but like the poor, polls and ratings we shall always have with us.
It is not giving away too much to disclose that Jason Moran's Ten came out first. For the rest of the results, go to Francis's article in The Village Voice. My list appears below. If I had compiled it a day earlier or a day later, it might have been different.
•New Releases
James Moody: 4B (IPO)
Evans, Reavis, Waits (Tarbaby): The End of Fear (Posi-tone)
Chet Baker: The Sesjun Radio Shows (T2)
Randy Weston: The Storyteller (Motéma)
Jason Moran: Ten (Blue Note)
Jessica Williams: Touch (Origin)
Irene Kral: Second Chance (Jazzed Media)
Alan Broadbent: Live At Giannelli Square, Volume 1 (Chilly Bin)
Keith Jarrett, Charlie Haden: Jasmine (ECM)
Kirk Knuffke: Amnesia Brown (Clean Feed)
•Reissues

Nat King Cole & Friends: Riffin', The Decca, JATP, Keynote and Mercury Recordings (Verve)
Miles Davis: Bitches Brew 40th Anniversary (Columbia)
The Bing Crosby CBS Radio Recordings 1954-56 (Mosaic)
•Vocal Album
Irene Kral: Second Chance (Jazzed Media)
• Debut CD
Jeff Chang: It's Not What You Think (Chee May)
• Latin jazz CD
Gabriel Alegría: Pucusana (Saponégro)