Today is Clark Terry's 90th birthday. Admired for his trumpet, flugelhorn, singing and blues mumbling, Terry has been an idol of trumpet players since the teenaged Miles Davis took him for a role model in St. Louis in the 1940s. From his days with Charlie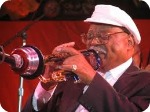 Barnet, Count Basie and Duke Ellington through his national prominence in the Tonight Show band and his long career as a leader and soloist, CT has been an inspiration to generations of musicians. It is a rare set in which Terry doesn't include something by Ellington, whom he invariably calls Maestro. Here's CT with his quartet at the Club Montmartre in Copenhagen in 1985. Duke Jordan is the pianist, Jimmy Woode the bassist, Svend E. Noregaard the drummer
From Jazz Matters: Reflections on the Music and Some of Its Makers, here is a passage from the chapter on Terry:
With Ellington, Terry blossomed. Duke's genius for recognizing and capitalizing on the characteristics of his sidemen has rarely had more startling results than in the case of Clark Terry.
Ellington sensed in Terry something of the New Orleans tradition. When he was preparing A Drum Is A Woman, his suite in which New Orleans plays a large part, he chose Terry to portray Buddy Bolden. Bolden's style is entirely legendary; no recordings of him are known to exist. Terry recalls protesting the assignment.
"I told him, 'Maestro, I don't know anything about Buddy Bolden. I wouldn't know where to start.' Duke said, 'Oh, sure, you're Buddy Bolden. He was just like you. He was suave. He had a good tone, he bent notes, he was big with diminishes, he loved the ladies, and when he blew a note in New Orleans, he'd break glass across the river in Algiers. Come on, you can do it.' I told him I'd try, and I blew some phrases, and he said, 'That's it, that's Buddy Bolden, that's it, Sweetie.' That's how Maestro was. He could get out of you anything he wanted. And he made you believe you could do it. I suppose that's why they used to say the band was his instrument. The Buddy Bolden thing is on the record, and Duke was satisfied. So as far as I'm concerned, it was Buddy Bolden."
On this auspicious day in Clark Terry's long life, let us indulge ourselves in one of his great summit meetings. At the Montreux Jazz Festival in 1977, he, Dizzy Gillespie, Eddie Lockjaw Davis and the Oscar Peterson Trio joined forces for the incomparable "Ali and Frazier,"introduced on this video by Norman Granz.
As Ken Dryden points out in the first comment below, "Ali & Frazier" is also on this CD.
Happy birthday, CT.