Billy Taylor, a pianist who became a television and radio spokesman for jazz and made the music familiar to millions, died last night in a New York City hospital after suffering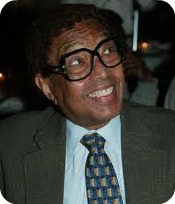 heart failure at home. He was 89. In his work on National Public Radio and CBS-TV's Sunday Morning, Taylor's playing and relaxed explanations dispelled for many listeners and viewers the notion that jazz was remote, impenetrable and difficult. He earned a doctorate in music in 1975 and chose to be called Dr. Taylor, a title that suited his professorial side. For a summary of his career and accomplishments, see the obituary by Peter Keepnews in The New York Times.
Taylor was born into a middle class North Carolina family and grew up in Washington, D.C. When he arrived in New York in 1943, he was educated, articulate and eager to build on his solid foundation in music. I spoke at length with him as I prepared the notes for the reissue of several of his early 1950s recordings in Billy Taylor Trio. An excerpt gives an idea of the intellectual curiosity he brought to his early music-making and of the difference he made in the development of jazz piano.
The young pianist went to work for tenor saxophonist Ben Webster at the Three Deuces. Unlike most horn soloists, Webster encouraged Taylor's use of rich chords in accompaniment. Taylor was inspired harmonically by Duke Ellington's piano introduction to "In a Mellotone," which he heard when he was a student.
"That wiped me out," Billy says. "I said, 'What's he doing?' So I figured it out. It was an A-flat ninth in the left hand and an octave with a fifth—A-flat, E-flat, and A-flat—in the right hand. I liked it and began fooling around with it, added a couple of things to it; one voicing in one hand and another voicing in the other. By the time I came to New York, that was a part of my approach. Most horn players said, 'That's in my way' because they were used to being accompanied around middle C, in the lower part of the piano. I was an octave higher. Ben was a former pianist. He liked it and encouraged me to do it."
Over the next decade, Taylor refined his chord-plus-octave style. By the time he had realized his ambition to form a permanent trio and went into the Prestige studio in late 1952, the sophisticated technique was in his musical grain. By then, a Taylor harmonic invention might be built like this: B-flat, C-ninth, E, and G or G-13th in the left hand, C, E, G and C in the right hand.
"I was harmonically oriented," he says, a masterpiece of understatement. "In those days a lot of these harmonies were not common. I was very proud that I was able to establish them."
When the recordings at hand were released as 78-RPM singles, Taylor's harmonies reached the ears of many pianists, who adapted them to their own playing. Later in the fifties the sound was to be identified with Red Garland, a pianist who rose to fame as a member of the Miles Davis Quintet. But Taylor pioneered the approach.
There are dozens of Billy Taylor videos on YouTube, part of his legacy of media visibility. In this one, he plays a decidedly two-handed blues. The interested onlooker is fellow pianist John Lewis.
No remembrance of Taylor would be complete without his most famous composition, "I Wish I Knew How it Would Feel to be Free," the piece that became an anthem of the civil rights movement. Here, he plays it with bassist Victor Gaskin and drummer Curtis Boyd.
Finally, a memory from April of 1969, a rehearsal of the all-star band that performed for Duke Ellington's 70th birthday celebration at the White House. It recalls Taylor's magnanimity and the respect other musicians had for him. The pianists on hand included Taylor and Dave Brubeck, both of whom would be featured that night. A photographer approached them and said, "Can I get one of you together?"
"Sure," Billy told him. "Maybe something will rub off."
"I hope so," Brubeck said, "—On me."