I should have long since added Chris Albertson's Stomp Off blog to the Personal Jazz Sites roll under Other Places at the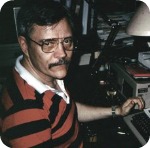 of the middle column. It is hereby added. For your first Albertson fix, I recommend that you take in his latest entry. It has to do with a jam session he recorded in Copenhagen in 1953 that included Art Farmer, Clifford Brown, Gigi Gryce, Jimmy Cleveland and others who were touring with Lionel Hampton's band, as well as several Danish musicians.
Albertson (pictured) incorporates two fairly lengthy audio samples of the jam festivities, which coincided with a populous party. Perhaps you will be able to identify the soloists. I can only guess. Chris's accompanying essay explains the circumstances, among them a celebration of the Hamptons' wedding anniversary and his friendship with the storied jazz patron Baron Timme Rosenkranz. To reach Stomp Off, go here.