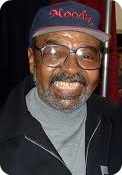 The news about James Moody is not good. He has been aware of it for some time, but kept it private until this week. No one who knows him will be surprised that he is at peace with the decision he has made. Here is the first paragraph of George Varga's story in The San Diego Union Tribune.
Jazz saxophone legend James Moody, a San Diego resident for the past 21 years, has disclosed that he has had pancreatic cancer since at least February — and that he had decided not to receive any chemo therapy or radiation treatment.
To read all of the article, go here.
The last time we were together, in 2007—too long ago—I interviewed Moody on stage at a festival. He reminded me that we had known each other for 50 years and had the kindness to inflate my ego by telling the audience, "And we've been buddies, too." Then he went on to play an astonishing set with the Bill Mays Trio. Go here for a Rifftides account of his concert on that occasion.
On Moody's 83rd birthday, WBGO-FM, the jazz station in Newark, New Jersey, put together this profile using his own words. It summarizes his attitude toward music, people and life.
Now, the musical part of that philosophy in action: Moody has the first solo in this 1985 performance of Dizzy Gillespie's "Ow," with Gillespie, Ray Brown, Gene Harris and Grady Tate.
Please take a moment to give a thought to James Moody.