Some of the best new work of prominent American jazz artists is not on US labels, and not all of it is easy to find. Stars is a case in point. The pianist in the band known as the December 2nd Quartet is Dena DeRose, who sings on several tracks of this charming album. Bassist Ray Drummond and drummer Akira Tana, complete the rhythm section.
The rising young trumpeter Dominick Farinacci is the fourth member. Benny Green is guest pianist on four of the 11 tracks. Recorded in California by the Vega label for the Japanese market, the album is available in the US as a pricey import unlikely to reach a wide audience. Still, connoisseurs have created a buzz about it.
The "stars" theme is hardly new, but it has rarely been pursued with more lyricism. DeRose's piano solos, pure delivery of lyrics and unison piano-vocalise improvisations are among the pleasures in jazz these days. Her work here is on the high level she has established with her recent CDs for MaxJazz, her earlier ones for Sharp Nine, a stunning one-off duo collaboration with trumpeter Marvin Stamm and her hard-to-get first album with the December 2nd Quartet. DeRose's treatment of "A Dream is a Wish Your Heart Makes" could revive that barely-remembered song from the old Disney cartoon feature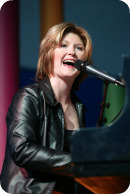 "Cinderella." The veterans Drummond and Tana meld smoothly with DeRose and with Farrinacci, whose intriguing freshness of conception is set on a foundation that indicates close study of Blue Mitchell, Clifford Brown and Miles Davis. His duet with Benny Green on "Stardust" consists of Hoagy Carmichael's melody with slight—but most effective—variations, a cadenza inspired by Brown and, throughout, a magic carpet of chords from Green. Green is on piano as DeRose sings and Farinacci solos on Fred Hersch and Norma Winstone's "Stars," a song that, despite its challenging intervals, could become a new standard.
Tana's brushes accenting Bill Evans' "Turn Out the Stars" set off Farinacci's beautifully intoned delivery of the melody. DeRose's solo maintains the grave, stately spirit of the piece. When Farinacci reenters, she is as much a duet partner with the trumpeter as an accompanist. The British singer Corinne Bailey Rae's "Like a Star" lightens the atmosphere, DeRose giving the lyrics the dignity of straightforward interpretation. In solo

and obbligato, Farinacci blows into a Harmon mute and DeRose executes a passage of her parallel piano-voice inventiveness. Her vocal on "Stars Fell on Alabama" is a highlight, matched by a Farinacci solo paying humorous tribute to Clark Terry and Sweets Edison. DeRose singing and Green accompanying her perform a classic version of "When You Wish Upon a Star."
Through "Stairway to the Stars," "Star Eyes," and a couple of songs outside the stars theme—"I Wished on the Moon" and "What Are You Doing the Rest of Your Life?"—the December 2nd Quartet offers a relaxed program packed with musical substance. Too bad it has limited distribution outside Japan, but the CD is worth seeking out for superior performances by everyone involved.