Hours before Friday night's concert at The Seasons Fall Festival, bassist Martin Wind's trio lost a third of its roster when drummer Matt Wilson returned home to attend to a family medical situation. Wind called Greg Williamson, who drove 150 miles from Seattle to Yakima across the Cascade Mountains in time for a quick talk-through before he joined Wind and saxophonist Scott Robinson on stage. The combination clicked in the trio's first half and after intermission when singer-pianist Dee Daniels joined them.
Had the audience not known of the last-minute substitution, nothing in the performance would have told them that Williamson had never before played with Wind and Robinson. Relying on experience, intuition and occasional clues from eye contact with Wind,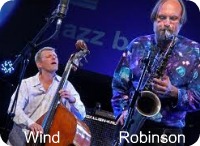 Williamson, an imposing figure, cooked along as if the three had been together on the road for weeks—or, at least, had rehearsed. From the opener, Lucky Thompson's blues "The Plain But Simple Truth," they drew upon the common language of jazz and their finely tuned antennae. The program included three tunes from Wind's new CD, Get It! (See Doug's Picks in the center column of this page). He began his composition "Rainy River" soloing unaccompanied on the melody of that moody song and led into Robinson, who improvised a variation with suggestions of sadness akin to that of a folk ballad with gospel tinges. The bassist introduced "Gone With the Wind" as "my theme song." They jammed on it, Williamson locking with the bassist and the tenor man into blowing that went beyond bebop into freer territory.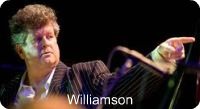 Robinson did not bring along the arsenal of instruments that has made him a perennial winner in jazz polls' miscellaneous-instrument categories. There was nary a contrabass sax, sarusaphone or theremin in sight. He played only tenor saxophone and made clear why he attracts so much attention for his work on the instrument. He and Wind demonstrated their empathy in "Remember October 13th" From Wind's 2008 Salt 'N Pepper album. The piece went from delicacy in the bass-saxophone exposition of the melody into wild interaction among the three players. Robinson astonished the audience with the range of his playing, from nearly subsonic to beyond altissimo, and control of volume from all but subliminal to thunderous. In the context of his improvisation, his fusillades of honks and slap-tonguing were not vaudeville gags but made sense in the development of his lines.
Wind dedicated "We'll Be Together Again" to the late Hank Jones and opened it with a solo that radiated deep feeling. The trio segued into Billy Strayhorn's "Isfahan," Robinson giving pure melody with subtle references to Johnny Hodges. Wind delivered another memorable solo. Thad Jones' "Three and One" is a favorite of both Wind and Robinson. Wind plays it with the Vanguard Orchestra and recorded it on Get It. Robinson used it as a vehicle for bass saxophone in his album of Jones compositions. Following Wind's bowed solo, Robinson, blowing as he went, crossed the stage to the drum set and leaned with his tenor to within a foot or so of Williamson. They generated some of the hardest swing of the evening, Wind grinning at the power of it.
Following intermission, Daniels joined the trio. The power of her voice and a style marinated in blues captivated the crowd from the first notes of "Sweet Georgia Brown."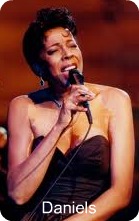 After "Honeysuckle Rose," she moved to the Steinway to accompany herself in "A Song For You," the first of two Leon Russell songs in her set. The Wind Trio returned for "What a Difference a Day Made" and "This Masquerade," which contained a Robinson solo that uncovered possibilities Russell might not imagine were in his harmonies. Still at the piano, Daniels worked her way from blues shadings into unadulterated blues, belting Jimmy Reed's "Baby, What You Want From Me." She dug into the keyboard and set up Wind, Robinson and Williamson for powerful solos. Wind's arco choruses included pauses that he emphasized with the bassist's equivalent of Robinson's slap-tonguing, exquisitely timed whacks with the bow across the strings. The performance brought the audience to its feet demanding an encore. Daniels responded with "Who Can I Turn To" and wrapped up a concert that put an exclamation point on the jazz portion of the eight-day festival.
A RIFFTIDES BONUS
There is no video of The Seasons festival performance of the Wind trio, but there is of Wind, Robinson, Matt Wilson and pianist Bill Mays at the Jazz Baltica Festival in Germany in 2008. Here, they play Paul Chambers' "Tale of the Fingers." Following Wilson's introduction, Robinson begins on bass clarinet and later solos on cornet and tenor saxophone.