The pianist, composer and teacher Joan Stiles runs one of the hippest sextets in New York. Her circle of insider admirers encompasses many of the best-known musicians in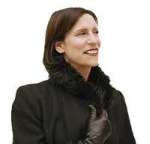 jazz today and is widening to include a substantial number of listeners in the general audience. Stiles achieves identifiable individuality in her own compositions and in her arrangements of songbook standards and pieces by Mary Lou Williams, Thelonious Monk, Fats Waller, Jimmy Rowles and Duke Ellington, among others.
Stiles was the most recent guest on Marian McPartland's Piano Jazz on National Public Radio, with Jon Weber subbing for McPartland. She plays several unaccompanied pieces, including her impressions of Monk on "Spherical," and a few with Weber on bass. NPR streams the program on the web at this address. Go there and click on "Listen Now."
Stiles' sextet is truly all-star: Jeremy Pelt, trumpet; Steve Wilson, alto saxophone; Joel Frahm, tenor saxophone; Ben Williams, bass; and Lewis Nash, drums. The only videos I've been able to locate of the band are mostly short, made at the Iridium in New York with a static camera that sometimes excludes Stiles and a microphone that could be closer to the piano. Nonetheless, a couple of them will give you the flavor of the band and of Stiles' soloing. The first features Pelt. The second is the title track of her most recent CD, Hurly Burly.
Why that was cut short, I have no idea. "Hurly Burly" in its entirety is on this album. Full disclosure: I wrote the liner notes for it a couple of years ago. And I'd do it again. Stiles is gaining recognition and deserves it.