The Detroit Jazz Festival runs through the Labor Day weekend, with an impressive array of musicians including Roy Haynes, Maria Schneider, Terence Blanchard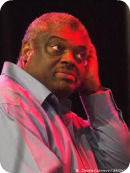 and Branford Marsalis. The festival's artist-in-residence, Mulgrew Miller, received advance attention from Detroit Free Press music critic Mark Stryker.
…the brightest spotlight falls on the Mississippi-born Miller, who makes four major appearances. He leads his sextet called Wingspan, plays duets with fellow pianist Kenny Barron, joins bassist Robert Hurst's quartet and appears opening night with the neo-gospel vocal ensemble Take 6. He'll also make a couple of other cameo appearances.
Miller is a good match for Detroit. He's not so much a star as a blue-collar hero, known for his versatility, collegiality and consistency: an aesthetic kin to the many jazz musicians from Detroit who are better classified as profound stylists and craftsmen than innovators. Miller long ago forged his influences, especially McCoy Tyner, Herbie Hancock, Chick Corea and Wynton Kelly, into an individual identity.
To read the whole thing, go here.
A few years ago (23), I wrote the liner notes for the Mulgrew Miller album Wingspan, which featured Kenny Garrett and Steve Nelson. Still fresh and undated, it is one of Miller's best. The LP and CD versions have become expensive collectors items, but it seems to be available as an MP3 download without necessitating a second mortgage. Shortly after he recorded Wingspan, Miller became a leader with a debut gig at the Village Vanguard. He has been one ever since, at the head of—what else?— Wingspan. It is good to see a prestigious festival like Detroit's recognizing so admirable a musician.