Jazz is dying? Ha. The stacks of evidence on my office floor say otherwise.
Here you see a few of the recent arrivals.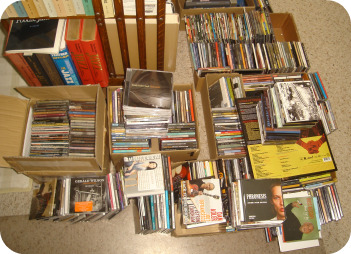 As I may have mentioned, it is impossible to keep up with this stuff. No matter how many listening hours the reviewer carves out of the day, they can never be enough. Selectivity is a necessity. In this installment of the never-ending attempt to stay abreast, here are the Rifftides staff's impressions of a few more or less new releases. These are not full-fledged—even half-fledged—reviews. Let's call them alerts to worthwhile listening, with brief observations.


Vijay Iyer, Solo (ACT). The pianist takes chances with every aspect of time, harmony and melody. He has the imagination, technique and understanding of the jazz piano tradition to bring off his adventuring with coherence and a sense of discovery. Two Ellington pieces, Monk's "Epistrophy" and "Darn That Dream" give the listener familiar guideposts, but you may find yourself going back to the magnetic complexities of Iyer's "Autoscopy."
Rebecca Kilgore Quartet, Yes, Indeed (Blue Swing). Kilgore doesn't get the recognition she deserves as one

of our finest singers, regardless of category. This collection of standards with her quartet formerly known as B.E.D. could help change that. Kilgore, guitarist Eddie Erickson, trombonist Dan Barrett and bassist Joel Forbes display the polish and tightness of years' experience together. Kilgore's poise, perfect intonation and phrasing are central, but Erickson sings charmingly and Barrett is superb on trombone and cornet. A highlight: the aching purity of Kilgore's vocal on "I Wish I Knew."


Larry Willis, The Offering (High Note). In demand over the years by leaders as various as Jackie McLean, Stan Getz and Roy Hargrove, pianist Willis recruits tenor saxophonist Eric Alexander, bassist Eddie Gomez and drummer Billy Drummond for this all-star session. His broad expressive and dynamic ranges are impressive throughout, nowhere more than in "Ethiopia," in which Gomez also shines. Willis's Bill Evans leanings are evident in "Three-Four Movement." It's a surprise to find the theme from Star Trek on a jazz album, but it works for improvisation and inspires splendid solos by Willis and Alexander.
Amina Figarova, Sketches (Munich). Figarova is almost certainly the only Azerbaijani jazz pianist and composer to
make an impact in the United States. The fleetness and depth of her playing are matched by her writing. She manages to invest three horns with harmonic fullness that often makes her sextet sound half again bigger. Her music has refined relaxation, as in "Four Steps to…," the tongue-in-cheek playfulness of "Breakfast for the Elephant" and the intensity of "Flight No." Figarova is a musician of originality, one to watch.


Hadley Caliman, Pete Christlieb, Reunion (Origin). This was the last record Caliman made before he died early this month. It brought him together with fellow tenor saxophonist Pete Christlieb, with whom he played in Los Angeles in the early '60s when Caliman was a young veteran and Christlieb a stripling. Their empathy, and the contrast in their styles, rekindles in this affectionate, spirited collaboration. The CD includes compositions by each, a lovely "Up Jumped Spring" and a high-energy romp on "Love for Sale." Pianist Bill Anschell, bassist Chuck Deardorf and drummer John Bishop are the yeomanly rhythm section.
More In Breve soon. Watch this space.