Tenor saxophonist Hadley Caliman died Wednesday in Seattle. He was 78 and had liver cancer. Until a few weeks before his death, Caliman thrived in the Pacific Northwest, starring in the Seattle Repertory Jazz Orchestra and leading his own group. Here, we see him soloing with the SRJO.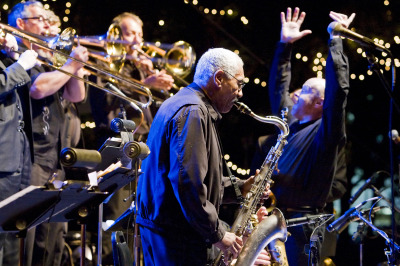 I wrote in Jazz Matters about Caliman in a 1979 performance with Freddie Hubbard's band:
As the evening progressed, Caliman's playing took on much of the intensity and coloration of John Coltrane's work, but he is a more directly rhythmic player than Coltrane was toward the end of his life and from that standpoint is reminiscent of his mentor Dexter Gordon. He made his first records in Los Angeles in 1949 when he was 17 and a student of Gordon. Whatever his influences, Caliman is an inventive and cheerful soloist.
After college, he went on to record extensively and work with musicians as varied as Gerald Wilson, Don Ellis, Hubbard, Santana and The Grateful Dead. Caliman retired in the mid-2000s as a music educator at Seattle's Cornish College of the Arts but not as a tenor saxophonist. In his final years he still sounded cheerful and at least as inventive as during his heyday (he made his first records in Los Angeles in 1949 when he was seventeen and a student of Gordon).
For an obituary of Caliman in a newspaper near the small town where he lived for several years, go here.
This video, unfortunately truncated, captures Caliman last July at Jazz Alley in Seattle with Thomas Marriott, trumpet; Bill Anschell, piano; Phil Sparks, bass; Matt Jorgensen, drums; and vocalist Gail Pettis. Jim Wilke does the introduction. The evening was a celebration of Caliman's 65th year as a professional musician.