For reasons that cannot be fully explained or quantified, some of the most personal soloists in jazz remain out of the spotlight despite their accomplishments. There is no better example in modern jazz than the trumpeter Johnny Coles (1926-1997), an insiders' favorite barely known to the general public.
A native of Philadelphia, a contemporary of Jimmy Heath, Clifford Brown, John Coltrane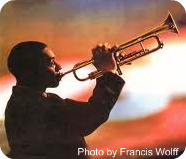 and Benny Golson, Coles never became a leader except on odd jobs and record dates, but he worked for some of the most famous leaders of his time. During his career he played with, among others, Tadd Dameron, James Moody, Herbie Hancock, Ray Charles, Duke Ellington and Gil Evans. Evans framed Coles' solos in shimmering orchestrations on several albums.
In a labor of love years in the making, Donald Frese—a frequent and knowledgeable Rifftides commenter—gives Coles his due in a new web discography that documents his major recordings beginning with Bull Moose Jackson in 1951 and ending with Geri Allen in 1996. From Frese's introduction:
Coles often said that Miles Davis was the trumpet player he most admired. Steve Voce, in Coles' obituary, wrote: "Johnny Coles would perhaps have been regarded as one of the jazz greats had he not been so close to Miles Davis in sound and style. Both Coles and Davis had the ability to express themselves powerfully using a minimal number of notes. The similarities clouded the fact that Coles' inventions were completely original and that he barely borrowed." And they both had their own distinctive cries and a certain dryness of sound. Gil Evans was probably Coles' greatest champion and the first to fully utilize his talent.
One does not think of Evans, like Duke Ellington, writing and arranging with the sounds of the men in his orchestra in mind, with the exception of his notable collaborations with Davis and the pieces that featured Coles. It is hard to imagine the compositions "Sunken Treasure" or "Zee Zee", or the arrangements of "Django" and "Davenport Blues" without Coles. Gil wrote the following about Coles in the liner notes to the Artists House LP, Where Flamingos Fly: "Johnny Coles is right in the be-bop era, part of the be-bop happenings and all that, but at the same time he had a great lyric sense and the main reason he could indulge in it is because he's got a great tone. He can hold a tone. When you can hold a tone, then you can take advantage of it. There's hardly anyone else who can do what he can do."
To visit the Johnny Coles discography, go here.
There is precious little video of Coles performing, evidently none with Evans. He is featured with the Mingus sextet in Norway and Sweden in the excellent Jazz Icons DVD Charles Mingus Live In '64. Here he is (the good guy in the white hat) on flugelhorn with the Count Basie band under the direction of Thad Jones. This was made in Japan, probably in 1985. Unfortunately, whoever supplied this clip to YouTube allowed the picture and sound to be out of synchronization. If it bothers you, you can always close your eyes and just listen.
Here, synchronization is no problem. Coles is at the helm of his own ship in the title track of his 1963 Blue Note album Little Johnny C. He solos between alto saxophonist Leo Wright and tenor saxophonist Joe Henderson. The rhythm section is Duke Pearson, piano; Bob Cranshaw, bass; and Walter Perkins, drums.
Johnny Coles, admired and loved by his colleagues for the warmth of his playing, now getting posthumous attention in Don Frese's discography.