Jessica Williams, Touch (Origin). It would have been difficult to imagine that Williams might exceed what she achieved in her 2009 solo concert recording The Art of the Piano. Yet, less than a year later she returned to Seattle's Triple Door and gave this recital glowing with her customary pianistic dazzle and a nearly Brahmsian gravity leavened with wit. The album's title implies more than the exquisite way she addresses the instrument's keyboard and pedals—the pianist's equivalent of tone. She demonstrates that aspect of her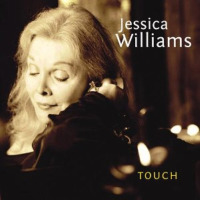 musicality with understated drama in the album's first piece, "I Loves You Porgy." Near the end, following a passage drenched in blues feeling, she releases a freshet of quiet 32nd notes at the very top of the keyboard where only the best pianos don't sound tinny. The Triple Door's Steinway D is silvery in its upper reaches. Williams's control is so exacting that despite the speed with which the stream goes by, each tiny note has its own clarity, its own expressiveness. Contrasted with the solidity of the bass note pattern in her left hand, the effect is mesmerizing; sparkles of sunlight on clear water rushing over rocks. When the piece ends, the audience does something unusual in these days of exhibitionist stomping and whistling at jazz performances. It sits quietly for a full four seconds before someone starts to applaud.
No, the Williams touch arises from every aspect of her musicality and goes beyond technique into the rarified territory of recognizability. Listeners familiar with her are unlikely to need a CD cover or an announcement to know who is playing. It has to do with the way her left hand voices chords, the characteristic fillip she gives grace notes, the way she floats time without sacrificing swing, her infusion of blues feeling into material that has no formal connection to blues harmonies, her personalization of songs indelibly identified with others. Paying tribute, she takes ownership of Charles Mingus's "Goodbye Porkpie Hat" and John Coltrane's "Wise One." A transformer of standards, Williams enters the landscape of nostalgia with Johnny Green's "I Cover the Waterfront" but manages to also make it an occasion for mild puns and a subtle bow toward Erroll Garner's kind of swing.
Her own compositions enhance the reflective mood of the album. "Soldaji," the title a variation on the Portuguese "saudade," is as expressive of loss and longing as anything by Jobim, Bonfá or Villa Lobos. "Rosa Parks" is the waltz in the collection, with logical if unpredictable chord changes and a soft insistence that suggests its namesake. "Gail's Song" is an after-midnight ballad that might seem patterned on a standard except for its unexpected chromaticisms, deceptively voiced seventh chords, and decorative flourishes that echo Ellington. "Simple Things" is just that, an open, uncomplicated melody in F with a set of changes that makes it easy for Williams to have fun. She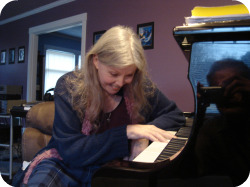 quotes from or alludes to some of her favorite things, including "My Favorite Things," "I'll Never Be the Same," "Along Came Bill," "Some Enchanted Evening," "Mairzy Doats" and Sophisticated Swing," not to mention an assortment of bebop licks. I may have missed a few. The quotes are not the point. The point is that they are not tacked on but fit into the flow of her improvisation so that if you didn't recognize them, it wouldn't matter.
This level of accomplishment must be what Williams was anticipating when she said a few years ago that she felt she was on the verge of a step into "the next zone." If so, the zone is an attractive place for her and her listeners. Williams seems to have worked through a period in which she was thoroughly musical—she has always been that—but not quite at peace with the world or herself. Touch has the air of a woman comfortable with her maturity and relaxed in her expanding musical universe.
People in the jazz community, particularly pianists in awe of Williams's consistency, creativity and constant growth, often discuss why so many critics and the business side of jazz seem deaf to her brilliance. Whatever the reasons, they must be sociological, political or cultural. They cannot be musical, not with her decades of development into an artist who can sit at a piano in a night club and create a masterpiece like Touch.