This is Charlie Parker's 90th birthday. In observance, the German trumpeter, teacher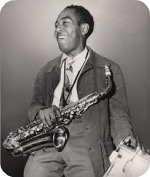 and indefatigable blogger Bruno Leicht posted an entry tracing the evolution of Parker's "Ko-Ko" from its roots in Ray Noble's "Cherokee." In his introduction, Bruno writes:
…Ray Noble had no idea, but this piece seemed to be extra-created for an ingenious improvisor like Bird. And it really became his leitmotiv through the years, from 1939 on. He owned it so to speak, and he took it to his grave. No one, not even the unique trumpet virtuoso Clifford Brown, could play on those changes as convincingly as the one and only Bird.
Leicht follows with a series of 20 MP3 recordings of "Cherokee" and "Cherokee" variants, from Noble's 1939 recording through many by Parker with his own groups, Parker with Nat Cole, Parker with Stan Kenton, one by Don Byas, one by Benny Goodman and two by Clifford Brown and Max Roach. The MP3-fest ends in 1958 with Roach's quintet featuring Kenny Dorham. After listening to all of it, I am left invigorated, in awe of Bird all over again and with "Cherokee" changes embedded in my brain. Leicht also links to Marc Myers' five-part JazzWax interview with Parker enthusiast Phil Schaap (scroll down to find it).
It's a lot of "Cherokee," a lot of Bird, a lot of work by Bruno, and a fascinating reading and listening experience. To take the ride, go here.