In his few years, Oliver Nelson achieved major success as a composer and arranger in jazz and in the Hollywood studios. His first big band collection, Afro-American Sketches (1961), made it clear that he was an important new talent. His Blues And The Abstract Truth with an all-star septet that included Bill Evans, Freddie Hubbard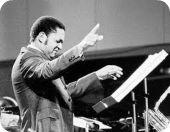 and Eric Dolphy is one of the most significant jazz albums of the second half of the 20th century. A good saxophonist, Nelson blossomed as a writer. His inventiveness, productivity, adaptability and capacity to produce on schedule led him to a career composing for television and movies. He scored, among other programs, 1960s and '70s hits including Ironside, Mr. Broadway and The Six Million Dollar Man. He became wealthy, but was leery of an essentially mercantile pursuit that he feared might sap his creativity. Phyl Garland wrote about Nelson's concern in a November, 1968 article in Ebony magazine.
He fears that he might become a victim of his own success, for there is the constant lure of the even bigger money to be made by those who join "the club," as that small group of openly commercial but highly solvent Hollywood composers call themselves. "Club" type success is difficult to shun, particularly when Oliver enjoys living as he does, though he has few spare hours to splash around in his own pool, and is equally proud of the home and 22-acre tract he has purchased for his parents on the outskirts of his hometown, St. Louis. He reluctantly admits, "I don't see how I could give it all up," but realizes that his expanding activities have left him little time in which to write music freely, to answer what he calls "this inner voice…something inside that just has to come out."
To read all of the lengthy piece about Nelson, go here. Two years after the article appeared, Nelson was in Germany to conduct his arrangements played by an international ensemble called The Berlin Dream Band. This video from that concert gives a rare opportunity to hear Nelson speak and see him at work in his preferred milieu. The first trumpet soloist is the late Carmell Jones. I am unable to identify the other two. The trumpet section is: Milo Pavlovic (Yugoslavia), Ron Simmonds (Canada), Carmell Jones (USA), Manfred Stoppacher (Austria), Harry Samp (Germany).
Oliver Nelson managed to balance "this inner voice" with work in the studios, but for only a few years longer. He died of a heart attack in 1975 at the age of 43.