Herman Leonard died last Saturday in Los Angeles at 87. A master of backlighting in smoky atmospheres, and of meticulous darkroom wizardry, Leonard photographed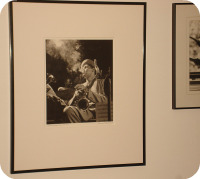 images that caught the mood of music-making by some of the most significant jazz artists of the 20th century. For an obituary, see the New Orleans Times-Picayune's website. Leonard lived and worked in New Orleans for more than a decade until Hurricane Katrina ruined his house and studio and he moved to L.A.


On a wall of my music room is a prized signed print of Leonard's shot of Dexter Gordon at the Royal Roost in New York at the height of the bebop era. The picture was widely known as an album cover, but like much of Leonard's early work created for utilitarian purposes, it took on larger fame as a symbol of the spirit of jazz, and as a collectors' treasure.
Herman Leonard, RIP.