The alto saxophonist Lee Konitz's inventiveness and boldness have seldom flagged. As his recent recordings demonstrate, he continues to embrace adventure and risk. If his repertoire is stocked with pieces that he revisits time and again—"All the Things You Are," "I'll Remember April," "Body and Soul," "Just Friends"—Konitz is the epitome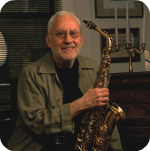 of the jazz soloist who tries never to play anything the same way twice, never coasts on clichés, even his own.
As a listener who has been captivated by Konitz since first hearing his 1949 recordings with Lennie Tristano, I never fail to find him at least interesting. Often, he transmits a sense of challenge and discovery remarkable for an improvising musician in his ninth decade. I may wish that Konitz had retained the skipping lightness and whimsy that characterized his work in the 1950s and well into the '60s. It may not be realistic, however, to think that as an artist deepened his tone and his intellect, youthful spirits would continue to dominate his work.
There is no better example from the latter part of that "early" period than Konitz's 1961 Motion album with bassist Sonny Dallas and drummer Elvin Jones, and few better examples from the '50s, at least on video, than this 1954 performance of "Subconscious-Lee" with his Tristano bandmate Warne Marsh. The rhythm section is pianist Billy Taylor, guitarist Mundell Lowe, bassist Eddie Safranski and drummer Ed Thigpen.
Tom Vitale of National Public Radio put together a report about Konitz that summarizes his career and his present approach. It includes comments from Konitz and bits of his current work. To hear the story, go here and click on "Listen Now." At the end of the text are links to previous NPR pieces about Konitz.