Abbey Lincoln died today in New York. The singer and actress was 80 years old. After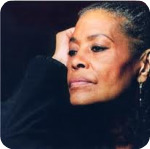 meeting Max Roach when he played drums on one of her record sessions in 1957, Ms. Lincoln came under his sway in her approach to music and in uncompromising civil rights activism. She and Roach married in 1962 and divorced eight years later, but his influence steered her toward a later career as a song writer and recording artist with a string of successful albums. For a lengthy review of her life, see Nate Chinen's obituary in The New York Times.
These two video clips illustrate Abbey Lincoln's transformation. The first is from the 1956 film The Girl Can't Help It, which also featured Jane Mansfield. The second is a piece from Roach's Freedom Now Suite, performed on German television in the early 1960s with his quartet: pianist Coleridge-Taylor Perkinson, bassist Eddie Khan and tenor saxophonist Clifford Jordan.
Ms. Lincolns' CD Abbey Sings Abbey summarizes her later work as composer and vocalist.