Every traveling jazz soloist knows that playing with pickup sidemen, or sidewomen, is a game of chance. There is a chance that there will be a disaster, a chance that the temporary colleagues will be adequate, and a long outside chance that something special will happen.
Thursday night at The Seasons in Yakima, Washington, Emil Viklický hit that outside chance. The Czech pianist and composer was in the Pacific Northwest for the premier of his Double Concerto for Harp, Oboe and String Orchestra at the national
conference of the American Harp Society. Following the performance, he made the trip from Tacoma across the Cascade mountains to The Seasons for a trio concert in that acoustic marvel of a small nonprofit performance hall.
Pat Strosahl, the Seasons founder, engaged bassist Clipper Anderson, who drove in from Montana on his way back home to Seattle. The drummer was Don Kinney, head of the percussion section of the Yakima Symphony Orchestra and a seasoned jazz player. Kinney has distinguished himself at Seasons concerts with other visiting leaders including pianists Alan Broadbent and the Swedish star Jan Lundgren. Anderson and Kinney knew of one another's work but had never played together. Viklický had played with neither. Viklický had e-mailed Anderson lead sheets for a few of his compositions
Because of Anderson's late-afternoon arrival following his long drive, the three had time
only for a 45-minute rehearsal. They ran through a few standards, and complex originals based directly on Moravian folk songs or on music by Czech national hero Leoš Janáček. Janáček is one of the great classical interpreters of the Moravian musical tradition that also inspires Viklický.
At the concert, it was clear after the opening chorus of Cole Porter's "Everything I Love" that this might turn out to be a memorable evening. It was evident not only because of the single-mindedness of the trio's swing but also because of Viklický's grin, which made frequent appearances. Introducing his adaptation of the folk tune "A Bird Flew Over," he called Kinney and Anderson "my new Moravian musicians." Several of the pieces were from Viklický's latest trio record, Sinfonietta, with bassist George Mraz and drummer Lewis Nash. The live versions with Anderson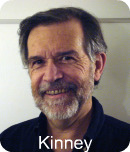 and Kinney compared favorably. It was not just a matter of their considerable technique. The three connected, locked in, listened and reacted to one another on the same wave length. At the end of the concert, when the cheering stopped, the pianist was effusive in his compliments to his new Moravians.
In an evening of high points, the highest was the Viklický piece he tied to his delighted discovery that he was in the heart of Washington State's celebrated wine country. He explained that "Wine, Oh Wine" grew out of his and his fellow Moravians' love of a folk song often sung on special occasions, including weddings and funerals. It concerns the dilemma of whether to drink red or white wine. The correct Moravian answer, Viklický said, is "both." Then, he, Anderson and Kinney celebrated that idea with a vintage performance that matched or exceeded the song's natural exuberance. Swing doesn't come much harder than what they achieved on "Wine, Oh Wine." Three skilled musicians, the common language of jazz and the chemistry that developed in a chance encounter had, indeed, produced a memorable evening. Viklický's grin migrated to every face in the house.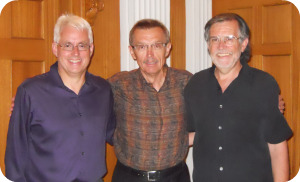 Unfortunately, there is no video from the Yakima concert, but here is Viklický with his Czech trio, bassist Frantisek Uhlir and drummer Laco Tropp. The tune is Ray Brown's "Buhaina, Buhaina."