Jason Moran, Ten (Blue Note)


It is possible that Jason Moran is the messianic paragon that the tide of jump-on-the-Bandwagon critical enthusiasm proclaims him. I am willing to cede that judgment to the leavening passage of time. It is no abandonment of restraint, however, to agree that Moran is an original thinker and a hell of a piano player. If there were no other reason to make that concession, I would be convinced by his treatment of the late Jaki Byard's "To Bob Vatel of Paris." Byard recorded the variation on "I Got Rhythm" changes in his breath-taking 1972 solo LP There'll Be Some Changes Made. The album was briefly reissued on CD as Empirical. Then, absurdly, it was allowed to go out of print and is now available only at outrageous collectors prices.
In his tenth CD on Blue Note, Moran takes his cue for "Vatel" from Byard, with whom he studied. He begins alone, parahrasing and bending the stride style Byard used in the piece. Then, Moran and his longtime sidemen, bassist Tarus Mateen and drummer, Nasheet Waits work their way into the kind of swirling, nearly aharmonic improvisation of which Byard was a master. Standard metric time all but goes out the window for a while,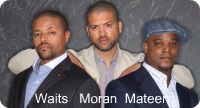 but swing does not. When they have wrapped up the tune six minutes later, they have run it through a kaleidoscope of shifting shapes and colors.
There is much else in the CD to enjoy or wonder at. Moran manages to combine his loves of hip-hop and Thelonious Monk in "Crepuscle With Nellie." He expands on the spirit, energy and blues core of Leonard Bernstein's "Big Stuff," and melds it into the next track, "Play to Live," which Moran wrote with the late Andrew Hill, another of his teachers. "Pas de Deux," an unaccompanied piece with the mystery and solemnity of a nocturne, is from a ballet for which Moran wrote the music. There are fast and slow versions of "Study No. 6," one of the eccentric composer Conlon Nancarrow's pieces for player piano. "The Subtle One" lives up to its title with reflective piano and bass musings and finely etched brush and cymbal work by Waits.
"Gangsterism Over 10 Years," bluesy and packed with references to pop dance idioms, is the latest iteration of a theme sketch that the trio, known as The Bandwagon, has been developing since its founding. The bonus track, hidden at the end and not included in the CD's play list, is "Nobody," the signature song of Bert Williams, a hero of black vaudeville memorialized in 1940 by Duke Ellington in "A Portrait of Bert Williams." Moran, Mateen and Waits handle it with the mixture of tenderness, exuberance and irony that characterized Williams' own approach to the song.
"Nobody" is not all that's hidden. There is no clue to the musical value of embedding samples of rock guitarist Jimi Hendrix's feedback behind the trio's lovely musings in the track called "Feedback Pt. 2." They don't do a "Feedback Pt. 1." That's okay.