In New Orleans, street musicians in the French Quarter are a tourist attraction. According to city law, they are also a nuisance. The contradiction has roots in jazz history and city tradition. It puts police and the administration of the new mayor, Mitch Landrieu, between residents of the Quarter who want to get some sleep and musicians like these outside Jackson Square who want to make a living or, at least, pick up a few bucks.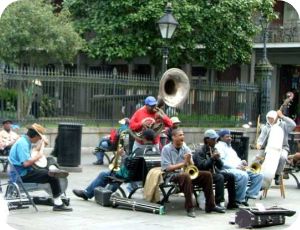 On the web site truthdig, Artsjournal.com blogger Larry Blumenfeld posted an exhaustive report about the controversy. He connects it to situations portrayed in the hot new cable television series Treme. Here is an excerpt that grew out of his conversation with a civil rights lawyer named Mary Howell.
Section 66-205 could be construed to prohibit a lone guitarist strumming on a corner or someone playing harmonica to no one in particular in the street. Same for Section 30-1456, which, curiously, pertains to a stretch of Bourbon Street filled mostly with bars that blast recorded music well into the night. Add to this, Howell explains, that in 1974 the city passed a zoning ordinance that actually prohibits live entertainment in New Orleans, save for spots that are either grandfathered in or specially designated as exceptions. Those interior shots in "Treme" faithfully depicting the vibe at Donna's Bar & Grill and Bullet's Sports Bar? Grandfathered in, or they'd be technically illegal. Current zoning restrictions could, without much of a stretch, be construed to prohibit band rehearsals, parties with musical entertainment, even poetry readings. "It's a draconian ordinance," says Howell, "and a blanket over the city." The very idea is mind-boggling to those who live outside New Orleans: a city whose image is largely derived from its live musical entertainment essentially outlawing public performance through noise, quality-of-life, and zoning ordinances.
To read Blumenfeld's entire piece, go here.