Manfred Eicher's ECM label, still celebrating the 40th anniversary it observed late last year, has reissued some of its landmark recordings. Many of them are on CD for the first time. Over the decades, ECM has achieved nearly infallible sound reproduction of a
broad and eclectic range of musicians including such disparate label mates as Arvo Pärt, Andres Schiff, Keith Jarrett, John Cage, Kim Kashkashian, Iva Bittová, Johann Sebastian Bach and the Art Ensemble of Chicago.
The label evolved with attention to core jazz and classical values side by side with a sonic expansiveness that led to an identifiable Northern European aspect of what was to become known as world music. Four of ECM's reissue sets are by artists who personified changes that moved through jazz in the 1970s. All of the musicians but one remain active, and all have built on the stylistic and popular success they developed with ECM.
Steve Kuhn, Life's Backward Glances (ECM). In his mid-thirties when Eicher persuaded him in 1974 to record the solo album Ecstasy, Kuhn had played piano for John Coltrane, Stan Getz, Art Farmer and Kenny Dorham. Eight years earlier, when he was the featured soloist in Gary McFarland's October Suite, he demonstrated that he thought beyond bop harmonies, with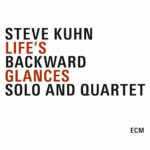 romantic expansiveness. Kuhn employed his massive technique to achieve the tenderness epitomized by "Silver" in the Ecstacy album. He was just as convincing with his power and controlled wildness, as in "Oceans in the Sky" from the quartet album Motility (1977), which features the atmospherics of Steve Slagle's soprano saxophone. Joining Ecstasy and Motility in the box is Playground (1979), the first recorded instance of Kuhn's celebrated partnership with Sheila Jordan. Unexpected from ECM, the audio mix occasionally all but obscures the intelligibility, but not the passion, of Jordan's singing in this collection of Kuhn's songs. Ironically, her voice has the greatest clarity in the wordless vocalizing on "Deep Tango."
Kuhn's soloing and his interaction with bassist Harvie Swartz and drummer Bob Moses are exquisite in Playground. Kuhn has frequently recorded "Life's Backward Glance," which inspired the title of the box set. In Ecstasy, he introduces the song as a solo piano piece. In the quartet version with Jordan five years later, he gives it a lyric, and a home-key change. Kuhn's originality as a composer is evident in that piece, "Tomorrow's Thoughts," "The Rain Forest," "The Saga of Harrison Crabfeathers;" indeed, throughout all three CDs.
Keith Jarrett, Gary Peacock, Jack DeJohnette, Setting Standards (ECM).
Twenty-seven years ago, jazz was reaching, even flailing, in all directions. Despite a retro movement headed by Wynton Marsalis, many jazz musicians were determined to detach from a past represented by the songs of their parents and grandparents. Freedom from formal restrictions and concentration on original composition brought a deluge of individual material. It also brought stultifying boredom created by album after album of tunes by youngsters inspired by the inventiveness of the Chick Corea, Herbie Hancock, Tom Harrell generation but who were composers only in the sense that they were putting notes on paper. It is unlikely that pianist Jarrett, bassist Peacock and drummer DeJohnette set out in 1983 to preserve anything other than their own sense of stability in a shifting jazz scene. Still, their first albums of standards and the flow of the trio's concerts and CDs that followed emphasized what gifted players can do with the rich cache of great songs at the core of popular music.
Their success has encouraged jazz musicians everywhere to make the Great American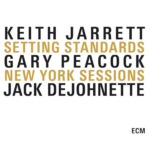 song book a living part of their repertoires. That's a public service. The Jarrett trio's recordings are a legacy of passionate, involved and—dare I use the word?—entertaining music. I haven't had a better time in weeks than listening again to the extended down-home romp the three develop in "God Bless the Child." Their interdependence, interaction and individuality seems to have formed spontanteously in these initial sessions in January of 1983. It has flourished ever since. After their interpretations of "Moon and Sand," "All the Things You Are," "If I Should Lose You" and eight other superior songs in Standards Vol. 1 and Vol. 2, the Changes album of original compositions follows logically in the same spirit. "Flying" and "Prism" remind us what a gifted composer Jarrett was. We may presume, if he decides to write again, that he still is.
Gary Burton, Chick Corea, Crystal Silence (ECM). The original 1972 LP Crystal Silence became a model and inspiration for duo performances in modern jazz. The album melding Burton's vibraphone and Corea's piano followed a spontaneous concert performance by the two. It may have been inspired in part by pianist Bill Evans and guitarist Jim Hall in their albums Undercurrent (1962) and Intermodulation (1966). Burton and Corea were extravagant admirers of Evans and Hall. In any case, the pairing was so successful, it established a partnership that has thrived for nearly four decades and produced a body of chamber music that is among the most rewarding and—because of the virtuosity and ingenuity of the players—complex contemporary chamber music on record in any genre.
This box of four CDs brings Crystal Silence together with 1978's Duet and two discs of In Concert, recorded in Zurich the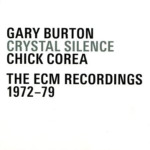 following year but never released complete until now. Many of the pieces included here have become jazz standards, among them "Falling Grace," "Arise, Her Eyes" and "I'm Your Pal," all by Steve Swallow; Burton's "Señor Mouse;" and "La Fiesta," "Bud Powell" and several "Children's Songs" by Corea. During the late 1960s and the '70s both Corea and Burton led or were involved in bands fusing jazz with other styles. Most of those projects, however successful musically, tend to sound dated because of the electronic keyboards and stringed instruments they used. Granted, Burton's vibes are electrified, but by the seventies their sound was an established element of the jazz landscape. Nearly forty years later, swirling, darting and jousting with Corea's piano, their freshness is undiminished. The restored concert material allows us to hear for the first time on record stunning solo performances by both musicians, Corea on "Love Castle," Burton in a medley of "I'm Your Pal' and "Hullo Bolinas."
Eberhard Weber, Colours (ECM). Perhaps more than any other ECM artist, the German bassist Weber set what in many minds came to be the label's signature sound. The foundation was in the passionate and virtuosic way he played his electrified standup bass modified with an extra string, and in the sheer size of its amplified sound. In a way that created a sense of capaciousness, Eicher and his engineers mixed Weber's bass and Rainer Brüninghaus's synthesized keyboards with John Marshall's or John Christensen's drums and Charlie Mariano's soprano sax and assortment of flutes and exotic winds. At the same time, the recording technique etched the sound of each instrument to achieve crystalline definition. The music had intimacy but seemed to float in space. Weber's hypnotic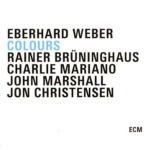 compositional style had much in common with minimalists like Steve Reich and Terry Riley. His music could be soporific, but at its frequent best, as in this set, it was compelling.
Weber's breakthrough album, The Colours of Chloë, is not included in this box, but it led him to form a working group and ultimately name his band Colours. The three albums in the set, Yellow Fields, Silent Feet and Little Movements, cover 1975 through 1980 and represent the ethos that intrigued such fellow musicians as Burton, Jaco Pastorius and John McLaughlin and endeared Weber to legions of listeners who might otherwise never have come near jazz. For dedicated jazz people, Mariano's fiery soprano sax work on pieces like "Left Lane" and "Seriously Deep," and the cymbal-splashed drumming of Marshall and Christensen, are likely to hold the most interest, but there is no denying the forceful pull of Weber's music. In a solo like that on "The Last Stages of a Long Journey," he makes clear that he was a formidable improviser. His 1980 "Little Movements" remains one of the most startling examples on record of humor wrapped into a serious piece of music. Weber is recovering from a 2008 stroke.