On a collection of horns that amounts to an instrument museum, Scott Robinson plays every style of jazz from traditional to free. One night he might be with the cornetist Jon-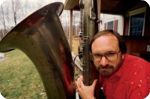 Erik Kelso playing music inspired by Bix Beiderbecke, the next anchoring the floating impressionism of Maria Schneider's orchestra. His arsenal, dozens of instruments, ranges from the slide soprano sax to the contrabass saxophone. It includes the theremin, the normaphone and the bass marimba. He plays all of those and more, and plays them well. In a video attached to the online version of Will Friedwald's portrait of Robinson in the Wall Street Journal, he demonstrates a few of his prized possessions. To read the article and see the clip, go here.
In Friedwald's piece, Robinson mentions his love of the tenor saxophone, which he considers his main horn. Here he is, playing tenor last year with the amazing 87-year-old Frank Wess on the Gene Ammons-Sonny Stitt specialty "Blues Up And Down." The rhythm section is Ilya Lushtak, guitar; Tal Ronen, bass; and Quincy Davis, drums. Robinson is the one on the right, in the conservative jacket.
If you'd like to hear and see Scott Robinson in another context, on several of his instruments, I refer you to this recent Doug's Pick DVD.