Keith Jarrett/Charlie Haden, Jasmine (ECM). Keith Jarrett has had partnerships with powerful and distinctively different bassists; Gary Peacock since 1983 in the pianist's Standards Trio; Palle Danielsson in the late 1970s in Jarrett's European Quartet; Charlie
Haden in his mid-70s quartet. For all of Peacock's dazzling virtuosity and Danielsson's rock-solid strength, Haden brought to Jarrett's music something unique—deceptive simplicity rooted in his beginnings as a folk musician. Rather than the parsing of chords that dominates much of modern jazz bass playing, Haden's lines relate directly to melodies. Often, his bass lines are less accompaniments or harmonic guides than melodies or melodic variations offered as commentaries. That might drive some pianists to distraction, but not Alan Broadbent of Haden's Quartet West, and not Jarrett.
Thirty-three years after they last recorded together, the empathy between Jarrett and Haden retains its seductive strength in this collection of ballads. Haden's deliberative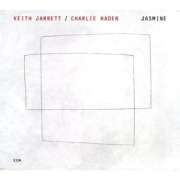 playing underscores the beauty of "For All We Know," "Goodbye," "Where Would I Go Without You?" and other slow pieces. When the tempo increases slightly on "Body and Soul" and prominently on "No Moon At All," he generates amiable forward motion, a runner on a relaxed jog finding the perfect slot . A pleasing aspect of Haden's work has long been his ability to solo by creating melodies that approximate story-telling speech. There are instances of that on nearly every track here, notably in "Body and Soul."
Jarrett's lyricism seems stirred by Haden's careful listening and note choices. He creates memorable solos throughout. There is fugue-like independence of left- and right-hand lines in his stimulating work in "No Moon At All." He caresses the melody of Victor Young's "Where Would I Go Without You," then in his solo finds the blues implications in the tune's harmonies. Following an unaccompanied introduction to "I'm Gonna Laugh You Right Out of My Life," he manages to be languorous and urgent at the same time. In the bridge of the second chorus of his solo on "Body and Soul," he achieves a floating state approaching weightlessness. Jasmine is a satisfying addition to Jarrett's discography.
Coming soon on Rifftides, a review of ECM's retrospective release of early recordings by Jarrett's Standards Trio, Steve Kuhn, Gary Burton with Chick Corea, and Eberhard Weber.