Back off the road and facing deadlines, I'm still in a blogging-lite mode.
We were in Seattle to see the world premiere of Daron Hagen's opera Amelia. The final performance was Saturday night, but this grand fugue of an opera is too good not to have further productions. Following the Seattle Opera's sensational unveiling, other companies are bidding for it. If it shows up within walking,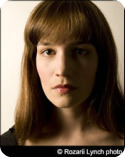 driving or flying distance, I strongly urge you to put it on your calendar. The superb Seattle cast was headed by the young mezzo soprano Kate Lindsey (pictured), who is bound to become an international star. Composer Hagen's music, conducted by the Seattle Symphony's Gerard Schwartz, is tonal, modern and powerful. The orchestral portions, so essential to the production, deserve to be fashioned into a suite. Hagen, librettist Gardner McFall and stage director Stephen Wadsworth layered a complexity of themes into a counterpoint of death, loss, birth and the joy of life .
The story uses the gratification, challenges and dangers of flight as a metaphor for the human condition. Based on McFall's poetry and her own experience, the main thread is a daughter's longing for her father, a Navy pilot who was killed in Viet Nam when she was a girl. Now grown, she is about to give birth. Nearly a basket case, she is obsessed by flight to the point where, in a classic mad scene, she attempts to stop a secret aircraft design project headed by her engineer husband. Other fliers who were lost decades and centuries before—Amelia Earhart and Daedalus—appear in brilliant set design by Thomas Lynch and staging by Wadsworth that weave history, myth and events of our time into a kaleidoscope of conflicting emotions. The final scene in a hospital delivery room, with a glorious, not quite cacophonous, blending and interaction of nine voices, is a great moment in contemporary theatre. I wish that you could all have been there.
Here's a video designed as a preview. Without giving too much away, it also serves as a summary. If you think you don't like opera, this one could change your mind.