Kirk Knuffke, Amnesia Brown (Clean Feed). Knuffke's trumpet tone is notable for softness, fullness and evenness. The audacity of risk in his improvisational concept would be the envy of the Flying Wallendas. The contrast between his sound and the content of his work is a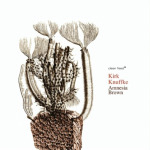 source of fascination throughout this collection of miniatures. Even though his collaborators number only two, Knuffke has plenty of company in 16 little art songs without words, all his compositions. Drummer Kenny Wollesen is a three-decades veteran of adventures with musicians as various as John Zorn, Bill Frisell, Jessica Williams, Tom Waits, Sean Lennon and the Crash Test Dummies. Doug Wieselman's track record includes work with Zorn, Jenny Scheinman, Wayne Horvitz and other prominent artists who typically populate the edge of New York's downtown jazz community. From track to track, he alternates between clarinet (generally calm) and guitar (tending toward mania).
The three develop their solos and interactions from themes built on folk simplicity in "Leadbelly" and "Totem," instrumental chanting in "Practical Sampling" and serene trumpet layered over guitar distortions and raucous drum and cymbal patterns in "Please Help, Please Give." The album's opening "How it Goes" begins with trumpet/clarinet counterpoint that could be Knuffke reflecting on Shorty Rogers and Jimmy Giuffre circa 1954, however unlikely that may seem. It ends with lyricism,
Knuffke and Wieselman giving sotto voce unison farewell to the delicate melody of "Anne." The unusual name of the album's title tune? It memorializes one of Knuffke's great-grandfathers, who claimed that he forgot he had a wife and family after he established a second set in another town and changed his name. The piece has a nostalgic, even old-timey, quality and a certain goofiness in the solos that is underlain with a Wollesen percussive effect like rapid water over loose stones.
In a development that may be an indication of growing maturity in free jazz, the longest track runs less than five minutes. Perhaps, after all, full expression doesn't require extraordinary length. One thinks of Miles Davis's celebrated advice to John Coltrane when Coltrane explained that he had trouble stopping his solos; "You might try taking the horn out of your mouth." These guys do, and it works.
For the past six months or so, Knuffke has been a member of Matt Wilson's quintet. For a Rifftides review of one that band's performances shortly after he joined, go here.