Music for voice, flute and guitar is rare in any idiom. In jazz, it is singular. When flutist Hubert Laws, singer Tierney Sutton and guitarist Larry Koonse performed together at a fund-raising event last fall in Los Angeles, the creative spark that materialized pleased and intrigued them. They made room in their busy musical lives for further collaboration. The three artists' individual prominence alone would make this cooperative group worth notice. But last weekend in one of their rare concerts, it was merit, not the novelty of a troika of stars, that verified the value of the idea.
In the perfect acoustics of The Seasons performance hall in Yakima, Washington, Sutton, Laws and Koonse held a near-capacity audience in thrall from their opening "Pure Imagination" to the encore, "You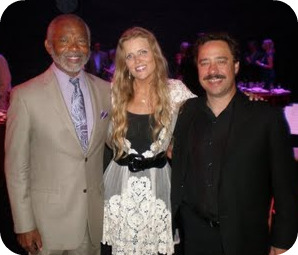 Must Believe in Spring." The intimacy of their blend, interaction and regard for one another was evident. Introducing "All The Things You Are," which flowered into spontaneous counterpoint, Sutton said, "This is sort of like chamber music, isn't it?"
"That's exactly what it is," Laws said.
Koonse began a stately "Ill Wind" with a slow chorus leading into Sutton's vocal supported by obbligato from Laws. Chamber music, yes, and art song as effective as Schubert or Wolff. If the ballads were redolent of music from the romantic period, the up-tempo pieces had the bite of bebop. In "'S Wonderful" Sutton made effective use of melisma at warp speed. "Joy Spring" had Sutton and Laws in a wordless unison chorus, then Sutton nailing Jon Hendricks' ingenious lyric, followed by Laws' blistering piccolo solo, Koonse chording his solo, and Sutton and Laws wrapping it up in an exchange of fours. Other highlights: the groove intensifying through "Lullaby of the Leaves;" Sutton's beautiful reading of Gene Lees' lyric to Bill Evans' "Very Early;" Laws' evocation of Ravel as Sutton sang Alan and Marilyn Bergman's words to Dave Grusin's "A Child is Born;" the empathy of Koonse and Laws in their duet on "Stella by Starlight."
Throughout, the trio listened, tuned and adjusted to one another. The sense of mutual appreciation on stage was palpable. The concert ran a good half hour past its scheduled conclusion. No one seemed to mind. Near the end, as she was introducing "Cherokee," Sutton told of placing third years ago in a Thelonious Monk vocal competition. Of the unnamed first and second place winners she said, "They're not doing a gig tonight with Hubert Laws and Larry Koonse." The three will continue to go their own ways, Sutton leading the Tierney Sutton Band ("I'm here tonight with their permission," she said), Laws and Koonse traveling the world to perform. They say that they will appear together as often as possible and that they will record. That is something to look forward to.
ADDENDUM
The few precedents of music for voice, guitar and flute seem to be outside of jazz. Igor Stravinsky came close to the combination with "Four Russian Songs" for voice, flute, guitar and harp, as did the contemporary American composer Daniel Asia with a series of "Sacred Songs" for voice, flute, guitar and cello. The operatic soprano Victoria de los Angeles recorded a group of Sephardic songs from the Spanish renaissance with flute and guitar accompaniment. "Pure Land," a setting by the Serbian-American composer DuÅ¡an Bogdanović, is for flute, guitar and poetry of Patricia Capetola. It appears not to have been recorded. Brazilian guitarist Laurindo Almeida arranged pieces by Fauré and Schubert for voice, flute and guitar. Here is Fauré's "Pavane" played by Almeida with mezzo-soprano Salli Terri and flutist Martin Ruderman.