Since the Rifftides entry about Gene Lees' death on April 22, we have received a flood of comments. They are posted in the comments section at the end of that piece. A couple of days later, Gene's friend Jeff Sultanof sent me a message that he intended as a private communiqué. I was moved by it and persuaded Jeff to revise it as a guest column. My intention was to post it four days ago, but the malware Darth Vader made that impossible.
Jeff is a composer, orchestrator, editor and researcher of great standing in the community of professional musicians, critics and academics. He is an expert on the music of Robert Farnon, Harry Warren, Miles Davis and Gerald Wilson, to name a few musicians whose work he has studied, edited and taught. While it flourished, he was a major contributor to jazz.com and would have written about Gene for that estimable site if it was still publishing new material. The Rifftides staff is honored to present Mr. Sultanof's thoughts about Gene. On the off chance that some readers might not know them, I have taken the liberty of inserting links to a few names. Consider them footnotes.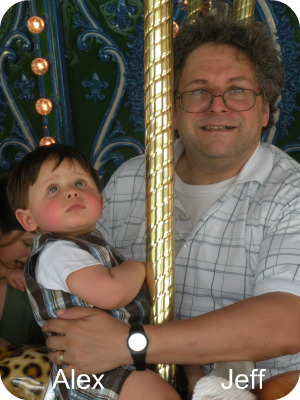 This is me on vacation with my son, who was a year old at the time. He is stubborn, opinionated and likes Ellington, Kenton and Sinatra. Gene would have loved him.–JS
On Gene Lees

By Jeff Sultanof

Gene's death brings up so much for me, because he was a giant of a man. But as you also know, Gene was far from a simple person, and I saw many sides of him; anyone close to him saw them too. So I thought I would share some reflections of my relationship with Gene. Several of us were close to him and considered him a close friend. That was a challenge at times, as his anger and stubbornness sometimes frustrated us so that we didn't speak to him for periods of time.
I knew about Gene for a long time before I finally met him. In either High Fidelity or Stereo Review (they are a blur in my mind at this moment), he wrote these incredible articles that I devoured when I was a young teenager. He discussed the kind of music I loved, and wrote about it so eloquently. I well remember a column he wrote praising an album called Threshold by Pat Williams, and it was his rave that got me to pick up a copy at the late lamented Sam Goody store at Rockefeller Center. The album was as wonderful as he said, so I followed him wherever he wrote. I bought his books of essays from the JazzLetter, and eventually I subscribed.
I finally met him when I was in the midst of a project that I now call my exercise in futility: the editing and cleaning up of the music of Robert Farnon. Nobody wanted to do it, nobody wanted to pay for it, yet it needed to be done. Farnon wasn't going to live forever, and many of his pieces were unavailable in the United States. The man who was considered one of the finest composer/arrangers in the world, praised by Andre Previn and John Williams had a body of work which was a mess. If it was to be played, it needed some tender loving care. I visited him in England and soon his scores began to arrive at my doorstep. We sent scores back and forth, my sending him newly-copied and edited full scores, he correcting and making them definitive by putting down what he actually wanted. I wrote to Gene and told him about this project, and he asked me to come visit if I ever got out to California. Upon arriving in Los Angeles, I made the first of many trips north to Ojai soon after. We had lunch, and at the end, he asked me whom I wanted to meet; he would call for me. I immediately thought of his neighbor Roger Kellaway, who arrived five minutes later as he had many questions about Farnon's music. Gene put me on the phone with Johnny Mandel, who asked if I had "Lake of the Woods" (I did). He called Jo Stafford to ask if I could come to see Paul Weston (I spoke to him on the phone later that day).
Gene and I communicated regularly from that point on. He asked me to write about Budd Johnson when he found out that Budd was the director of our jazz band and I was his assistant. This became a contribution to the Jazzletter, the first professional article of mine on American music that was published in the United States. He next wanted an article on George Handy. These two pieces were the most important prose works I'd written up to that point. He taught me how to refine my writing, to make it clearer, how to draw the reader in. He was delighted that I knew a great deal about film and film music history, and we discussed his close friend, the brilliant Hugo Friedhofer at length ("He would have liked your seriousness," he told me). I located copies of films that he wanted to see. Whenever I was in California, he, I and Janet would be up till all hours talking, arguing and laughing. He eventually shared a lot of confidences with me.
When he was asked by a conductor friend of his to come up to Montreal and sing in concert, he got Roger Kellaway to write arrangements and accompany him. I asked if I could write something, and wouldn't you know he told me that I should do "Desafinado." I was in shock, but I sat down and did it. I offered to copy parts for all of the arrangements. I was no fool; it was a way for me to study the work of Kellaway and Allyn Ferguson. He obtained an arrangement by Claus Ogerman that originally had a board fade and needed an ending. I happily supplied it.
During a dinner a few days before the concert, I was saying how I was lucky to be part of this concert because my work wasn't as good as either Kellaway's or Ferguson's. Gene lit into me. "Every arranger wants to be in the club of those who really have talent, and many never make it. Others keep beating themselves over the head worrying about it. Jeff, you're in the club, so stop it already." Kellaway grinned at this and nodded in agreement. After many years of writing arrangements for print which I'd never heard and nobody ever told me were good or terrible, I finally felt with that one statement that I had made it, something I'd desperately wanted since I was a little boy and my room was filled with the sounds of Nelson Riddle, Billy May, Don Costa and the many others who I hoped I would know when I went into the music business. As it turned out, I did get to know Riddle and many others of my heroes.
It was Gene who introduced me to Marion Evans, master arranger and teacher of J.J. Johnson, Pat Williiams and Torrie Zito. Marion took to me like a long lost buddy, and when I was asked to write something for the Palm Beach Pops, I called him to have lunch with me and to look at my score. He had just retired from developing computer programs for Wall Street firms and probably hadn't looked at a score page in years, but he invited me up to Connecticut. That day I got the best orchestration and arranging lesson in my entire life, and when he was through, Marion said, "I didn't realize you were such an accomplished writer," in that quiet, southern drawl of his. It was Gene who told me, "You realize that that statement is like winning the Academy Award." It wouldn't have happened if it wasn't for Gene.
I also saw his ugly side; as you know, simple things would make him fly into a rage. Disagreements with him by colleagues including the late Richard Sudhalter would bring out the warrior who would write on and on in the Jazzletter that these people were wrong and how could they be so misguided. I once asked my friend Richard how one handled being attacked that way. "It's just Gene," he said. "We've all been through it. I'll call him or he'll call me in a couple of months and straighten it all out." I myself got a phone call I'll never forget. He insisted that he would never confide in me again. I asked him what happened. After screaming and going on a bit, he insisted that I'd told someone something that was not for their ears. Patiently and quietly, I laid out my case why I was not the one who'd said anything, and when he calmed down, he figured out who the culprit was. He quietly apologized, asked me how I was and said he'd talk to me later. Amazing!
He was deeply burned by Jobim. He explained that in order to write the lyrics to Jobim's songs, he learned Portuguese so that he could give the actual meaning of the songs in English. As you know, several of them are brilliant. He always felt they should have made him more money, and always spoke of researching each copyright so that he could figure out how much was owed to him. He probably was owed quite a bit, but between the original copyrights and the rights for different groups of countries, these waters were muddy indeed, and he didn't have the patience to do the research himself. Jobim wound up getting most of his songs back in the U.S., and even wrote English lyrics for his new songs, which weren't very good. Jobim treated him quite shabbily, to hear Gene tell it; he wrote of this in the JazzLetter. So often in a conversation, he would bring up Jobim, and I could tell that this was one of the great disappointments of his life.
It was Gene's hatred of rock that probably alienated many influential people who could have hired him. Who knows how many songs he heard that he turned down, pissing off people along the way? This reminds me of Bernard Herrmann's remark to a filmmaker who wanted Herrmann to score his new picture. Herrmann, an outspoken man himself, said, "Why do you show me this garbage?" If I could have given a gift to Gene, it would have probably been a hooked rug with that quote. I know that he would have laughed.
When he turned philosophical, he considered himself a failure. He believed that he was preaching to a congregation that was dying off, and that younger people didn't care about the music he loved. I assured him that many young people did, and that his writings would be treasured by new generations because right or wrong, he was passionate about music and words and wanted to tell us as much as he could about those created these artistic miniatures called songs. Gene's love of language inspired many who read his books and heard his presentations. Deep passion about any art form is to be treasured; many writers want to show off what they know rather than how an artwork made them feel and teach us why it is or was important. If Gene reminds us of anything, it is that to really write well about art, you must know as much about it as possible and draw the reader in so that he/she must hear or see the material at hand just to see if he/she agrees with the writer. Gene was hardly complacent, and many of his articles demand your participation rather than asking nicely. Sometimes he was way off base and wrote from pure emotion, but more often than not, he could back up his opinion in any number of ways. He knew that being polite often doesn't work, especially today. If we jump in the water and swim with Woody, Alan, Frederick, Dizzy and any number of other people he wrote about, at least it was better than just looking at the water with a cigarette and a drink in your hand. Life's too short anyway.
You, Teachout and a few others are left to hold up this rickety old house with little more than spit and chewing tobacco, and we've just lost one of those whose spittoon was overflowing. More power to you, and let's think of Gene with a smile once in awhile. Let's get out his books and remind ourselves why we loved them. Let's not forget his search for a truth, maybe not a truth that everyone could agree with, but at least an opinion that is well argued and makes sense. In this time of great insanity in our beloved United States, we need this more than ever.
Gene Lees ad Libitum & JazzLetter (its full name) has always been strictly a print venture. There are intentions, but no firm plans, to give it a web presence. The first step is a JazzLetter web site offering subscriptions, back issues and Gene's books. Janet Lees says that more information will eventually follow.