I was unable to cover the Portland Jazz Festival this year, to my regret. For reasons of economy, the festival came in compact form; one week instead of two. Jack Berry of Oregon Music News tells me he thinks that smaller was better. Berry wrote about two of the festival artists. This is some of what he had to say in advance about Pharaoh Sanders, for forty years among the freest of the free.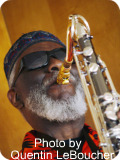 So this is your cup of tea or it isn't. Sanders was playing with John Coltrane on Live in Seattle and more than one acquaintance of mine considers that to be one the most astonishing experiences of their lives. Pharoah chatter on the Internet includes a rebuttal to Whitney Balliett's putdown, that it's noise, not music. Call it what you want, was the rejoinder, if it's noise it's noise of surpassing power and frequent beauty.
To read all of that piece and see video of Sanders playing in a tunnel, go here.
Berry's Sanders concert review includes this observation:
No one, prior to the Golden Age and beyond, has teased so many strange sounds out of a tenor saxophone as the Pharoah. Echo effects, warbles, ululations and splintered multi-sonics abounded. Others have gotten percussive sounds from the instrument by just fingering the pads (not blowing) but his are really loud. I kept looking at the bass player to see how he was doing that but he wasn't (at that moment) doing anything.
Here is the link to the full review.
As the Portland festival wrapped up last night, Berry heard trumpeter Dave Douglas and the band Douglas calls Brass Ecstasy, four horns and a drummer.
The association one has with brass bands is exuberance and there was that in spades. But "I'm So Lonesome I Could Cry" was so richly mournful that the emotional range of this instrumentation was astonishingly extended.
For all of Jack's review of Douglas and company, click here.