There was a memorial service Sunday night in New York for the bassist Jamil Nasser, who died last month. Among those in attendance was pianist, composer and writer Jill McManus, who sent Rifftides a report.
There was a sizeable crowd at Saint Peter's Church in Manhattan on the evening of March 21st to honor and remember bassist Jamil Nasser, who died on February 13th. His strong, resounding bass playing was held in high regard. Nasser cut a wide swath through jazz from the 50s through the 70s, not only playing with top musicians, but also reaching out to produce and foster jazz. He later taught at the State University of New York at Stony Brook and was on the board of the Jazz Foundation and music director of Cobi Narita's Jazz Center of New York, which organized the event. Nasser's wife of 30 years, Barbara (Baano) Nasser was present, as were some of his five children and many family members.

I remember Jamil from my early days of playing. A slim man with an impish smile, he had a big, generous sound and an immediate way of connecting with people. He was supportive, always ready to play, a good-hearted person one could talk to. I was always glad to see him. The number of musicians there last night testifies to the respect he had earned. It was a moving night -colleagues from the core of jazz history keeping alive, in a radically different time, the memory, the thread of tradition, and love.
Jamil (born George Joyner, in 1932 in Memphis) was mentored by Lester Young and Phineas Newborn, played with Newborn's trio, recorded with Red Garland, John Coltrane and Al Haig, led his own quartet through Europe in the late 50s, played in the Ahmad Jamal Trio from 1964 to 1972, and worked with such other great players as pianist Randy Weston and saxophonist George Coleman, who both performed at the tribute.
Nasser's old friend from Memphis, Harold Mabern, led off, with Jamil's son Muneer on trumpet and Lisle Atkinson on bass. With his crisp and highly rhythmic piano, Harold was dazzling. Pianist Frank Owens's authoritative stride and swing included a spot with drummer Frank Gant, a member of the outstanding Jamal trio, now somewhat handicapped, playing "Amazing Grace" on a tiny set of bells. Saxophonist Jimmy Heath, with pianist Barry Harris, Atkinson and drummer Carl Allen did a mellow "There Will Never Be Another You." Jamaican pianist Monty Alexander's island tinge blossomed on a haunting bossa written by Nasser, "Tropical Breeze." His next offering, "No Woman No Cry," was deep and solacing. Pianist Randy Weston was, for me, the high point of the evening, playing his personal blend of jazz harmonies and deep-rooted tribal sounds and rhythms, with the amazing "low-down" bassist Alex Blake, who strummed and seared, and trombonist Benny Powell, who added thoughtful melodic lines.
Bassist and deep-voiced singer Carlene Ray's extraordinary vocal rendition of "Everything Must Change" sent pure tones to the rafters and brought a chill. Pianist Norman Simmons's provocative "If I Should Lose You," assisted by Lisle Atkinson, preceded alto saxophonist Lou Donaldson's soulful version of "Body and Soul," with pianist Richard Wyands, bassist Michael Max Fleming and drummer Jackie Williams. (During Donaldson's performance, we noticed through the church window above, a homeless man flapping the sections of his cardboard box as he settled his body on the ledge for the night–and we felt blessed.) Tenor saxophonist George Coleman, also originally from Memphis, brought reminders of his many gigs over the years with Jamil. He played "I'll Be Seeing You," sometimes intertwining ideas with tenorman Ned Otter. Coleman's son, George, Jr., accompanied them on drums, with Mike LeDonne on piano and Lisle Atkinson on bass. Frank Wess did a gorgeous flute version of "The Summer Knows" with Fleming and drummer Ray Mosca, and then took a medium romp on "I Remember You." Bert Eckoff played a brief flowing piano solo and a duo with Atkinson. Jimmy Owens followed with a solo trumpet blues. Then, Monty Alexander led a brief jam that included drummer Wade Barnes and flutist Dottie Taylor.
Jamil's son Muneer Nasser has compiled a book of Jamil's interviews and life experiences called "Stories of Jazz as told by Jamil Nasser," due out in the fall. The first 100 copies include a CD with rare interview clips. It is available at Amlayna Productions.
–Jill McManus
Ms. McManus's Symbols of Hopi (Concord, 1984) features her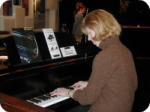 compositions, arrangements and piano, saxophonist David Liebman, trumpeter Tom Harrell, bassist Marc Johnson, drummer Billy Hart and American Indian percussionists. It is one of the important recordings of the 1980s still not reissued on CD. Copies of the vinyl LP occasionally show up on e-Bay and other auction sites. This one, for example.