In their list of priorities, most serious listeners put music's content before the quality of its sound. In one of our listening sessions at my house, I apologized to Paul Desmond for the scratchy surface of the old vinyl LP I was playing for him. "I don't care if it's recorded on cellophane strips," he said, "as long as I can hear what everybody's doing." Nonetheless, Desmond's own playback equipment was state of the art. He preferred first-class audio.

The Desmond episode came to mind as I read Eric Felten's Wall Street Journal "De Gustibus" column about the importance of studios to the enjoyment of recorded music. Felten used as his point of departure the report that EMI may sell its Abbey Road Studios. Musicians venerate Abbey Road for the sound quality of recordings made there not only by the Beatles, Radio Head, Duran Duran and dozens of other pop performers but also by classical artists. Sir John Barbirolli conducted the premiere performance of Vaughan Williams' Symphony No. 5 at Abbey Road. French Horn virtuoso Dennis Brain recorded the Mozart Quintet for Piano and Winds there.
Now, any 18-year-old tenor saxophonist with a computer and a bedroom can be a record company. Felten argues that the loss of the great studios to digital wizardry has resulted in homogenization and a leveling of individuality in recorded sound.
The digital-recording revolution has allowed producers armed with laptops and a few padded rooms in a basement to forgo the expensive environs of the traditional recording hall. Yet this comes at a cost.
Felten singles out the lamented Columbia 30th Street Studio as an example of what we have lost.
The airiness of classic '50s jazz owed much to the acoustic properties of an old Armenian church in Manhattan converted by Columbia Records into its 30th Street Studio.
Miles Davis's masterpiece, Kind of Blue, was recorded at 30th Street, and so too, just a couple of months later, was Dave Brubeck's album Time Out. David Simons, in his book Studio Stories, suggests that the success of those two records owed something to how they sounded, something that wasn't just a function of the quality of the recording equipment. There was the sympathetic resonance of the studio's unvarnished wood floor and the distant reverberations reflected by its towering ecclesiastic architecture: "To hear 30th Street is to hear drummer Joe Morello's snare and kick-drum shots echoing off the 100-foot ceiling during the percussion break in Dave Brubeck's great 'Take Five.'"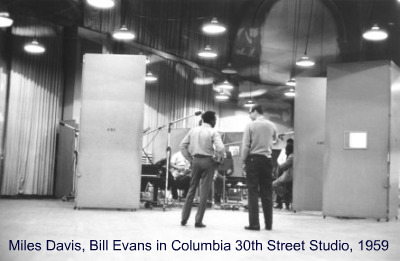 Much of the intimacy and warmth of Charles Mingus's Mingus Ah-Um (another masterpiece from 1959) and many of Thelonious Monk's Columbia records also came from the unique properties of the 30th Street Studio. The same can be said of how RCA's Studios A and B benefited recordings like Mingus's Tijuana Moods, Desmond's quartet albums with Jim Hall and the Juilliard String Quartet's recordings of Debussy, Ravel and Webern. You don't get that kind of sound with a laptop in your bass player's rec room.
To read all of Felten's thought-provoking column, including his reflections on the dread Auto-Tune, go here.