Author Nick Catalano recently had occasion to revisit the JazzHouse in Copenhagen. The club is the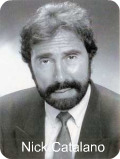 successor to the Montmartre, which presented dozens of the world's best jazz artists in the 1950s and '60s. Rifftides pieces about Bud Powell and the Montmartre's masks stimulated considerable comment. The staff thought you'd be interested in Nick's observations about the JazzHouse.
The atmosphere at Copenhagen JazzHouse is informal, the decor is charming and the crowd is serious. The room was packed on both nights and the audiences displayed that close attention which is so pervasive among European jazz patrons. People never whisper or otherwise distract listeners.
How refreshing. To read all of Nick's piece about the club before and since its reincarnation, go to his New York Beat column at All About Jazz.