Once in a great while, I encounter a photograph so good that it is necessary to dream up a reason to use it. In the case of the one beow, no dreaming was necessary. The lighting, sharpness and definition are so right, the shot looks like 3-D. The tenor saxophonist is Hadley Caliman. The conductor is Michael Brockman of the Seattle Jazz Repertory Orchestra. The SRJO is preparing for two concerts called Big Band Monk and Mingus, in early March.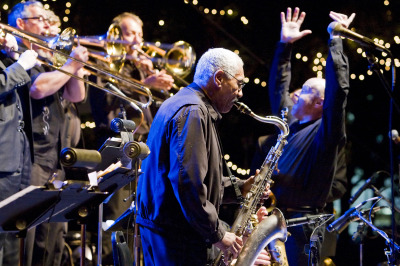 Photo by Bruce C Moore
From the SRJO news release:
These concerts will feature rare performances of numerous historic works, including Thelonious Monk's "Bye-ya," Mysterioso" and "Evidence," and Charles Mingus' "Good-bye Porkpie Hat," "Shoes of the Fisherman's Wife," "Fables of Faubus," "Better Get Hit in Your Soul," "Don't Be Afraid, The Clown's Afraid Too," and "Self Portrait in Three Colors." The concert will feature original arrangements by Seattle jazz writer and pianist Bob Hammer for classic recordings by the Mingus Orchestra such as Mingus Ah Um and Let My Children Hear Music. Many of the Mingus works show off the lyrical side of his composition skills.
In tribute to the victims of the recent earthquake in Haiti, the SRJO will also perform Mingus' civil rights era work, Haitian Fight Song.
If you live in or near Seattle or find yourself in the neighborhood and haven't heard the SRJO, this would be a fine opportunity to get to know an impressive collection of musicians. For more information, go here.
There is little of the SRJO on web video, but here is a sample from an outdoor concert. Brockman's co-leader Clarence Acox introduces the piece. The trumpet soloist is Jay Thomas.
As for Hadley Caliman (remember the picture?), see this recent Rifftides item.