Gary Peacock and Marc Copland, Insight. Marc Copland, Alone (Pirouet). Copland's previous explorations on the fine German label Pirouet were four trio CDs and one by a quartet.
In these new ones, he pares down personnel but not his signature keyboard touch, melodic inventiveness or harmonic astringency. Peacock, the brilliant bassist, gets top billing in the duo album, but he and Copland are full partners. Laced with chance-taking adventure, their interaction nonetheless produces

an overall sense of contemplation and ease. The polish and unity of six compositions with joint credit to Peacock and Copland make it impossible to be sure which parts are written and which spontaneously created. Other provocative performances are of "All Blues" and "Blue in Green," associated with Miles Davis; a spritely take on Dave Brubeck's "In Your Own Sweet Way;" Copland's "River Run," all shimmer and mystery; and Peacock jauntily plucking the lead in the 80-year-old standard, "Sweet and Lovely."
Copland goes it Alone beginning with a softly insistent A-natural struck beneath the melody of Mal Waldron's "Soul Eyes." As the piece blooms, he returns to the ostinato now and then, a remembrance of things past. The figure helps frame the

performance's sense of longing or nostalgia that continues through Joni Mitchell's "I Don't Know Where I Stand." Later, two other Mitchell songs become parts of an expressive whole in which Copland combines ten discrete compositions into a suite centered in wistfulness but not, perhaps, regret.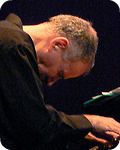 His "Night Whispers," "Into The Silence" and "Blackboard" are facets in the pensiveness, as are meditative abstractions on Stordahl and Weston's "I Should Care," Wayne Shorter's "Fall," and Bronislau Kaper's "Hi Lili Hi Lo" bringing us to the end with another ostinato, this time in C-major.
A news release that arrived with the CD has a quote from Copland.
There's no cut and dried technique other than this:
The desire, when playing, not to hit a single note or a single chord unless
It has a certain touch, a certain blend, a certain feel.
Copland has all of that, and these albums have staying power.
Freddie Hubbard, Without A Song (Blue Note). This collection of concert performances in England, previously unissued, captures the entire trumpeter. That means you get the daring explorer of chords, the exhibitionist technician and the balladeer who could break hearts

with his lyricism. There are moments, as on "Space Track," in which Hubbard is so unrestrained as to overwhelm the listener. There are others, notably in a long, wondrous version of "The Things We Did Last Summer," when his tenderness makes you forgive him anything. The discovery of the music on this CD helps fill out a vital chapter of Hubbard's touring career and makes his loss a year ago all the more regrettable. It is a logical companion to his MPS studio album The Hub of Hubbard, also recorded in December, 1969. The rhythm section is nearly the same in both, pianist Roland Hanna and drummer Louis Hayes, with Ron Carter on bass in England and Richard Davis in Germany.
BRIEFLY
Dan Nimmer, Yours Is My Heart Alone (Venus). The fleet young pianist of the Lincoln Center Jazz Orchestra recruits the ace rhythm team of bassist Peter Washington and drummer Lewis Nash for an eclectic mix of standards, jazz classics and two of his own pieces. Surprise: Nimmer's joyous treatment of the Gil Evans rarity "Jambangle." No surprise: the bow to his hero Oscar Peterson with Peterson's arrangement of the title tune. Special treats: Johnny Hodges's "Squatty Roo," with a powerful Washington bass solo, and a driving "Falling in Love With Love."
Sachal Vasandani, We Move (MackAvenue). Vasandani's singing faintly suggests Kurt Elling, but that is less a matter of emulation than a similarity of attitude toward material. Without making an attempt, always doomed, to define jazz singing, suffice it to say that Vasandani does it and does it well. Jazz is in his phrasing, intonation and dynamics, whether on a chestnut like "Don't Worry About Me" or his own songs "Every Ocean, Every Star" and the title tune. His voice has a reedy quality that maintains through the registers of his considerable range and his note manipulations.
Bob Green, St. Peter Street Strutters (Delmark). Bob Green is a pianist from New York, one of the world's most dedicated Jelly Roll Morton specialists, now 88. He recorded this album at Preservation Hall in 1964 when he was visiting New Orleans. He plays the whey out of "Wolverine Blues," "The Pearls," "Sweet Substitute," King Oliver's "Snake Rag" and W.C. Handy's "Atlanta Blues," among others; fifteen pieces in all. The band's unusual instrumentation is piano, cornet (Ernie Carson), banjo (Steve Larner) and tuba (Shorty Johnson). I hadn't listened to Green for years and put this on wondering if he was as much fun as I remembered. He was.