The Kennedy Center Honors for 2009 went last night to Dave Brubeck on his 89th birthday, and to Mel Brooks, Grace Bumbry, Robert De Niro and Bruce Springsteen. CBS-TV will broadcast two hours of highlights from the ceremony at 9 pm EST on December 29. This morning's papers and tonight's newscasts will be full of the story. Googling the name of the event will turn up dozens of items on the web.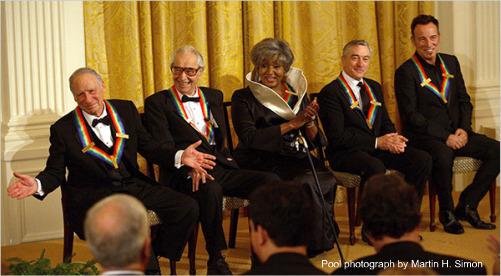 Brooks, Brubeck, Bumbry, De Niro, Springsteen
For the jazz community, of course, the big news is the inclusion of Brubeck. By dint of talent, conviction and fortitude he has persevered through a 63-year career of struggle, fame, misfortune, rewards, unjustified calumny and ultimate acceptance by nearly everyone, including many who once found it convenient to use him as a symbol of whatever they found unworthy, inartistic or unfair in the jazz business. When he had survived a long time, they started listening.
Nothing I have read in the past few days has seemed to capture Brubeck more accurately or movingly than Ann Gerhart's feature piece in yesterday's Washington Post. Here is a bit of her article about an interview with Brubeck and his wife Iola.
They are in a hotel suite in Minneapolis, he in stocking feet, white shirt, khaki dress pants and suspenders, doing this interview, she in black sweater and slacks, silk scarf about her neck, peering at a laptop at their autobiography, now in progress for at least a decade. An easy, slow afternoon late in the autumn of a remarkable life and partnership. If you were scoring at home, perhaps you'd open with a reverie in waltz time, each note a lingering, almost melancholy kiss.
Brubeck would be good with your intro for maybe 16 bars.
Then he and his sidemen would crack that ballad wide open in a hard-charging, swinging version in a time signature you couldn't hope to count out, you'd just have to close your eyes and hold on. That is how Brubeck is. That is how he plays. That is how he lives, in stubborn and sunny defiance of all conventional rhythms of jazz and age itself.
To read all of Ms. Gerhart's story, go here.
Congratulations to Dave and Iola Brubeck.