San Francisco's Company C Contemporary ballet company includes this item in the announcement of its spring season.
Charles Anderson, Beautiful Maladies
 Music by: Richard Rogers and Lorenz Hart, Hoagy Carmichael, George Benson and others 

Arranged and performed by: Chet Baker
Expanded from last season's You Don't Know What Love Is, Charles Anderson's Beautiful Maladies, is set to seven exquisite ballads arranged and sung by West Coast Jazz legend Chet Baker. Enveloped by Baker's silky smooth sounds, this dramatic ballet's lush, sensuous movement and saturated colors carry us on an emotional journey through the complexities of love.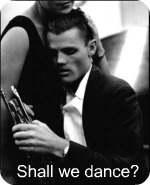 For details, go here.