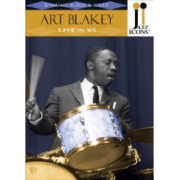 Art Blakey, Live in '65 (Jazz Icons). The Blakey entry in the new Jazz Icons DVD release will come as a surprise even to many of the drummer's most persistent fans. The band it presents in France was not an edition of Blakey's celebrated Jazz Messengers, but a short-lived quintet billed in the opening credits as "Les Art Blakey's New Jazzmen." Assembled for a European tour, it had played a few concerts by the time it appeared at the Palais de la Mutualite as part of the Paris Jazz Festival. The band was primed, collectively and individually.
Rather than a pianist he could count on to operate within his defined rhythmic guidelines, Blakey hired Jaki Byard. As Michael Cuscuna emphasizes in his comprehensive essay, Byard thrived on fluidity of time, a concept that would seem at odds with Blakey's more regimented approach. The bassist is Reginald Workman who could operate with equal effectiveness in Blakey's strict temporal realm and Byard's free one, and it may have been Workman who provided the commonality that made this rhythm section function so well together. The film shows Blakey directing frequent glances and grins of approval at Byard and Workman.
The tenor saxophonist is Nathan Davis, who was living in France at the time and pleased Blakey so well on the tour that the drummer offered him a job when he reformed the Messengers. Davis opted to stay in Paris because of family obligations or he might have become as famous as a number of other Blakey sidemen. Freddie Hubbard came to prominence with Blakey in the early sixties and by 1965 was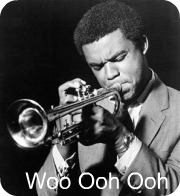 acknowledged as the hottest young trumpet player in jazz. Each of the band's musicians is impressive, but Hubbard owns this concert. He was at the peak of his form in conception, execution and taste. He maintains a stunning level of excellence through each long solo on extended treatments of his compositions "The Hub" and "Crisis" and a brilliant version of "Blue Moon," a signature ballad feature for him during this era. Midway through his virtuoso "Crisis" solo there is a moment emblematic of Hubbard's energy and enthusiasm when he pauses for a breath, executes a deft dance move and, perfectly synchronized, between a grunt and a groan exclaims "Woo, ooh, ooh." Throughout, this was Freddie Hubbard's night.
Davis had a few worthy albums as a leader and a sideman, but relatively little exposure during his most active playing days. When he returned to the States he concentrated on music education. Since 1969, he has been director of jazz studies at the University of Pittsburgh. He had a generous tone and a fine sense of line in construction of his solos. His work here demonstrates that he was in a class with several tenor players who worked with Blakey over the years. Byard's accompaniments are inspirational to the horn players. His solos are a bit more restrained than they might have been in company with Tony Williams, Alan Dawson or other drummers more inclined to go with his flow. Nonetheless, his mastery of the range of jazz piano styles and his irrepressible cheer and whimsy are in full operation. As for Blakey, he is sui generis, a force of nature, a marvel of swing, one of the great drummer leaders. To see him beaming through his extended solo on "Crisis" is to see a man immersed in his work and in love with it.
The digital remastering of the slightly grainy black and white source film results in acceptable picture and good audio quality. The fourth batch of Jazz Icons DVDs maintains the high standard set by the first three. The series is a boon to listeners and to the preservation of jazz history. Let us hope that its proprietors continue to mine European film and television for more treasures like this one.