Hal Weary, A Rendezvous with Déjà Vu

(halwearyjazz). Weary is a pianist from the west on the rise in New York City. The quintet numbers on his debut CD draw on the hard-bop/gospel spirit of Horace Silver and Art Blakey. On "Tenderly," he touches on but soon departs from Erroll Garner. Unaccompanied on "Praise Medley" he seems to refer to the Ellington of "Reflections in D." Weary and his sidemen, saxophonist Shantawn Kendrick, trumpet Kenyatta Beasley, bassist Gregory Williams and drummer Jerome Jennings, are newcomers to keep your ears on. In contrasting facets of his style, Beasley exhibits welcome appreciation for Kenny Dorham and Freddie Hubbard.

The Frisell/Viklický Nexus

It would be all but impossible to keep up with guitarist Bill Frisell's trips through the myriad precincts of music he inhabits. In his discography, you'll find him in the company of Elvin Jones, ouds and bouzoukis, electronic mixes, Nashville studio aces, Jim Hall, music for silent films and string charts that might have been written by Lutoslazwski or Legiti. That's just a start.
Two recent CDs find Frisell oriented more or less toward country music. But they are not albums of country music. All Hat is Frisell's soundtrack for the motion picture of that name. It is fragmented in keeping with its job in the Texas melodrama, but Frisell connects the fragments by way of his distinctive sound and the nostalgic feeling with which he manages to inflect his every phrase.
The work of the eccentric Arkansas photographer Mike Disfarmer inspired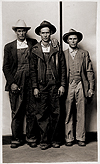 Frisell to write and record Disfarmer. The music — full of blues shadings — reflects the sadness, lyricism and power that radiate out of Disfarmer's portraits of plain country people. Taken together, the CDs capture the atmosphere and emotions in parts of the contemporary rural American south. The continuity between them comes, obviously, from Frisell's playing but also from his canny employment in both projects of guitarists Greg Leisz, violinist Jenny Scheinman and bassist Viktor Krauss. Drummer Scott Amendola and harmonicist Mark Graham assist in Disfarmer.
They may seem an unlikey pair, but Frisell and the Czech pianist Emil Viklický were classmates at the Berklee School of Music in the 1970s. In 1979, they collaborated on a recording. It was just reissued as part of a CD called The Funky Way of Emil Viklický. Their five tracks with fellow ex-Berkleeites bassist Kermit Driscoll and drummer Vinnie Johnson feature an electronic keyboard and live up to the album's title with music that has something in common with what Miles Davis and Joe Zawinul were doing at the time. Or, as liner note writer Lukas Machata so elegantly describes the recording session in Prague's venerable Dejvice studio, "the quartet literally funked the hell out of the venue." On other tracks in the compilation, Viklický plays acoustic or electric piano with his big band, Karel Velebny's SHQ, the combo known as Energit and the fine singer Eva Svobodá. Regardless of context, there is a feeling of joy throughout.
Viklický's collaborations with fellow Czech George Mraz on bass have always been
superb. The newest one, Sinfonietta, is no exception. Lewis Nash is the drummer except on the title track ,which has Viklický's longtime trio member Laco Tropp. The subtitle, The Janaceck of Jazz, alludes to Viklický's fondness for the great Czech composer and his ability to interpret Janacek's music and incorporate its spirit into his own compositions. Full disclosure: I wrote the notes for this album and will refrain from going on about it at length.