Jazz History Preservation
Not all of the reconstruction work to be done in New Orleans is a result of Katrina's damage. One of the city's jazz landmarks has been falling apart for decades. Now, it appears that Crescent City officialdom may be about to ride to the rescue of the Halfway House. It could be a long, slow process. To read Danny Monteverde's story in The Times-Picayune and see photos of the building in its heyday and in deterioriation, go here.
l
Jazz.Com
I have not kept up with the doings at the valuable web site jazz.com now that its founder Ted Gioia has announced that he is leaving. My artsjournal.com colleague Howard Mandel, proprietor of Jazz Beyond Jazz, is looking into the matter. He has comments of his own and two lengthy responses from jazz.com contributor Alan Kurtz. To see Howard's initial piece and his exchanges with Kurtz, go here.
Eddie Locke
Family and friends of Eddie Locke will celebrate the drummer's life Sunday evening, November 22, at St. Peter's Church, Lexington Avenue and 54th Street in New York City. Widely respected as a perfomer and a teacher, Locke died on September 7 at the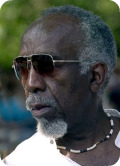 age of 79. In his later years, he tended to be typecast in traditional bands because he deeply felt that kind of music and had a rich history with Red Allen, Dick Wellstood, Willie "The Lion" Smith, Warren Vache, Dick Sudhalter and many other exemplars of the genre. From Teddy Wilson, Roy Eldridge and Coleman Hawkins forward, he was in demand by players in all tributaries of the modern mainstream. Locke and pianists had a particular affinity. He could be found with his fellow Detroiters Barry Harris, Tommy Flanagan and Roland Hanna, and later with Bill Charlap, Mike LeDonne and Tardo Hammer, to list a few of the thoroughly modern keyboard artists with whom he played. In this clip, he is in a familiar latterday milieu, with Duke Heitger, trumpet; Antil Sarpilla clarinet; Bill Allred, trombone; Bernd Lhotsky, piano; and Nicki Parrott, bass. This was in January, 2009, at the Arbors Records Jazz Party in Clearwater, Florida.
Among the score or so of musicians expected to perform at Locke's memorial gathering are Charlap, LeDonne, Vache, Louis Hayes, Frank Wess, Ray Drummond and Richard Wyands. Barry Harris will be music director, a.k.a. traffic cop. Previous information that John Bunch has the job was in error.
Locke's mastery of time and the fine art of wire brushes is on display in this CD with Vache, Charlap, bassist Dennis Irwin and tenor saxophonist Harry Allen.