In the days when I was learning to truly listen, Red Kelly gave me a piece of valuable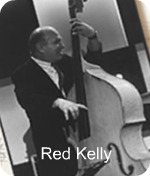 advice. He told me to close my eyes and in my mind isolate and concentrate on the bass player. He said that when I felt and understood what the bassist was doing, the rest of the music would begin to fall into place. It was a coincidence, of course, that Red was a bass player.
As an impoverished student, I had a limited record collection. It consisted of a dozen or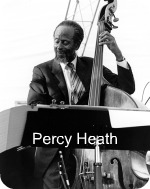 so 10-inch LPs, and it happened that Percy Heath was the bassist on about half of them, with Miles Davis, Sonny Rollins, Thelonious Monk and the Modern Jazz Quartet, then a new group.
Red's advice was invaluable. To this day, I lock in on the bassist for a blueprint to the shape of a piece, and I am still fascinated by Heath's bass lines. In the following performance by the MJQ of Milt Jackson's blues "Bag's Groove," Percy is in customary form with his spacious but concentrated tone, impeccable note choices and irresistible swing. This is from the Zelt festival in Freiburg, Germany, in 1987. The video producers insert a title misnaming the tune. A German YouTube viewer reacts in the comment section:
"das insert "BACKGROOVE" ist richtig peinlich!"
"Really embarrassing," he says. Well, yes, but not as embarrassing as the director, asleep at the switch, who keeps the camera on John Lewis during all three choruses of Heath's bass solo. Nonetheless, this is a splendid performance. You may as well close your eyes and focus your attention on Percy's notes because you're going to see little of him.
Red Kelly is the bassist on Kenton At The Tropicana, one of the best live albums in Stan Kenton's discography. Backed by the Kenton trombones, Red also appears as featured vocalist on the heartbreaking ballad "You and I and George." In a small group setting on another album, he is with his friend and fellow bassist Red Mitchell and guitarist Jim Hall in the classic Good Friday Blues, now packaged with other Hall recordings in a CD called Blues On The Rocks. Mitchell plays piano and leaves the bass work to Kelly.